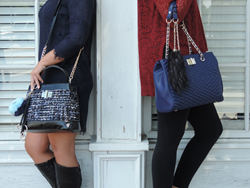 (PRWEB) December 08, 2016
Originally only sold in the United States directly on 88-eightyeight.com and amazon. 88-EightyEight is now expanding internationally via AmazonGlobal Export Countries. This includes several different continents. The majority of items in Amazon's product catalog for 88-EightyEight can be shipped to over 75 countries. These include:
Africa and Middle East
Americas
Asia and Pacific
Europe
All international purchases on Amazon at http://amzn.to/2eBLVVR. Available 88-EightyEight product styles are denoted by Amazon Prime symbol, shipping rates and fees vary depending on the delivery address for the order.
To learn more about 88-EightyEight Handbags, go to: http://www.88-eightyeight.com You may also visit their social media pages, listed below:
Instagram: @88.eightyeight
Twitter: @88_handbags
Facebook: @88handbags
Pinterest: @Eightyeight_88
Blog: https://88fashionblog.wordpress.com
For more information, please contact: Tosha Clemens at (818) 427-1449, PR@88- eightyeight.com