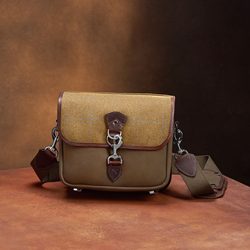 Camera bags designed for mirrorless, Leica and a single DSLR camera with lens.
East Grinstead, West Sussex (PRWEB UK) 6 December 2016
Today, Hawkesmill England announced it is rolling out a line of smaller luxury camera bags. Currently, Hawkesmill makes a stylish large camera messenger bag, suitable for needed gear and a 15" MacBook Pro. These new bags are designed to be used with smaller cameras, i.e., mirrorless, Leica, or a DSLR and single lens attached.
Hawkesmill utilizes luxurious materials, such as Scottish Harris Tweed and triple-layered waterproof canvas, while the firm's innovative dual-d ring closure and trigger hook system ensures that all of the gear it holds is safe and secure, while also being quick to access. A second d-ring acts as an overflow ring, for those occasions when a little too much has been packed.
Similar to the large bags, the small line also includes a removable insert that is replaceable, ensuring a lifetime of use, as well as a rear sleeve that keeps valuables, such as passports, tickets, memory cards and money, against your body and safe.
There are five models currently available: the classic all-black Bond Street; the olive Jermyn Street, sporting a traditional Harris Tweed design; the distinctive 18oz canvas Marlborough with English vegetable tanned leather; the black body with charcoal Harris Tweed flap Sloane Street; and, in a first for camera bags, the Regent Street, an all-Horween Chromexcel version.
The overall dimensions of each of the new Hawkesmill bags are 10″ wide x 8″ high x 5″ deep (25.4cm x 20.3cm x 12.7cm), while the weight varies slightly by model, from 2.5lbs to 3.5lbs (1.13kg to 1.58kg).
All of the small canvas bags sell for £329.00, while the small leather Regent Street is £469.00. Along with the large bags, these are all handmade in England with a lifetime warranty against defects.
The company also makes luxurious leather camera neck straps, card holders and passport holders.
For further information about Hawkesmill England handcrafted bags and accessories, please visit http://www.hawkesmill.com