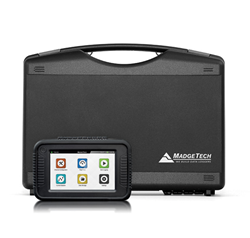 (PRWEB) December 05, 2016
Versatility is the driving demand behind the Titan S8's unprecedented capabilities. The device can measure temperature, humidity, voltage, current and pulse with sampling rates as fast a 4 KHz. To provide users with additional flexibility, the Titan S8 is compatible with a variety of probe types including Thermistor, RTD, and thermocouple types J, K, T, E, R, S, N and B. These features combined with user-programmable engineering units and alarms make the Titan S8 the most capable 8 channel device of its kind on the market today and ideal for tackling any industrial data acquisition or validation task.
The Titan S8 stands out by delivering the most intuitive, user-friendly interface of any multi-channel DAQ currently available. The five-inch full-color capacitive touchscreen provides users with straightforward navigation menus and multiple ways to view all 8 channels of real-time or recorded data, including instant gauge view and X-Y graph views.
Equipment engineers, facility managers and product quality testers alike will find that the Titan S8 is the ultimate companion for on-the-go data acquisition and equipment validation. Measuring just 6.7 x 4.4 x 1.4 inches and tipping the scales at a mere 1.4 pounds, the device is completely portable and fits easily into a toolkit or jacket pocket.
Given the industrial environments it is designed for, the Titan S8 comes standard wrapped with a durable rubberized boot to protect it from bumps and falls. The molded grip design allows engineers and technicians wearing protective gloves or working in unconventional spaces to ensure that the Titan S8 stays tightly in their grasp. The logger's built in kickstand can also be used to allow for easy viewing while the Titan S8 tackles lengthier data acquisition tasks or studies.
The Titan S8 data acquisition logger will start shipping in January 2017, call MadgeTech today for more information at (603) 456-2011, or email info(at)madgetech(dot)com.