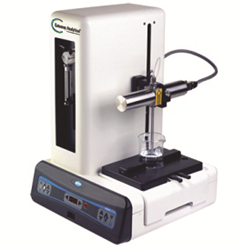 Our customers need this service, and we understand the importance of delivering the fast, reliable results that will help them meet and exceed quality standards.
Pittsburgh, PA (PRWEB) December 06, 2016
Gateway Analytical, one of the world's most trusted particle identification and characterization laboratories, is now offering HIAC particle counting and sizing services for USP 788 and 789 particulate standards compliance. The new service is available immediately.
Gateway Analytical instituted the new service as a response to the needs of pharmaceutical and medical device manufacturers, who are required to comply with USP 788 and 789 cleanliness standards. The standards ensure the quantification of foreign particulate matter in product development and quality control.
David Exline, founder and president of Gateway Analytical, says the addition HIAC particle counting will address a critical requirement that Gateway customers need. "Our customers need this service, and we understand the importance of delivering the fast, reliable results that will help them meet and exceed the quality standards and regulatory challenges that exist in the pharmaceutical and medical device industries today."
The HIAC system builds on Gateway's commitment to providing state-of-the-art laboratory services for customers around the world. Gateway's laboratory area is specifically designed and dedicated to accommodate foreign particulate identification and characterization, featuring a HEPA filtered environment, separate clean rooms and a new, dedicated area for handling cytotoxic materials.
About Gateway Analytical
Gateway Analytical is the innovative analytical testing laboratory that businesses around the world trust to provide solutions for their most challenging foreign particulate analysis, foreign particulate identification and materials analysis needs.
Gateway's expert scientists, specialized testing techniques and comprehensive analysis methods allow the company to deliver the fast, accurate and reliable results that customers in the pharmaceutical, materials and medical device industries demand.
To learn more about Gateway Analytical and how it is making the world healthier and safer, visit http://www.gatewayanalytical.com
About ChemImage Corporation
ChemImage Corporation is a Pittsburgh based company committed to making the world healthier and safer through dramatic advancements in chemical imaging technology. The company combines proprietary, state-of-the-art chemical imaging sensors, algorithms and analytical software to solve the world's most challenging health and safety issues.
ChemImage seeks to provide an Awareness of Things™ (AoT™) to a global audience, using the company's innovation platforms to provide people with unprecedented levels of vision, information and situational knowledge about their surroundings in their everyday lives. To accomplish this goal, the firm develops spectral imaging technologies for chemical and biological applications in numerous global industries; including life sciences, bio-medical, security, threat detection, anatomic pathology, forensics and diagnostics.
For more information, visit http://www.chemimage.com