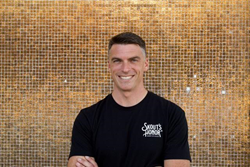 "Pete's passion for building Skout's Honor as a disruptive pet specialty brand and his rock-solid integrity are characteristics that continue to drive success for the company and also motivates our team on a daily basis." - Macon Brock, CEO Skout's Honor
Irvine, Calif. (PRWEB) December 06, 2016
Skout's Honor, the environmentally and socially conscious company that offers Better, Faster, Stronger solutions to everyday pet stain and odor problems, is proud to announce that its Chief Operating Officer (COO) Pete Stirling has been recognized by Pet Age Magazine in their 2016 "Forty Under 40" Awards.
The intent of the Forty Under 40 awards is to honor today's up-and coming pet industry leaders. These are individuals who have shown their devotion to the success of the pet industry and a commitment to professional excellence. To be nominated, an individual had to meet criteria that included being 39 years old or younger at the time of the nomination and possessing significant authority for decision making within a pet-related company or organization.
"We're excited that Pet Age is honoring Pete for his leadership, community service and dedication to the pet industry – we are proud to have him as a critical member of our team," said Macon Brock, CEO and founder of Skout's Honor. "His passion for building Skout's Honor as a disruptive pet specialty brand and his rock-solid integrity are characteristics that continue to drive success for the company and also motivates our team on a daily basis. Congrats, Pete!"
Pete started his career in retail marketing and developed an aptitude for customer development and excellent service has always been a natural talent and key driver for the success he has accomplished in a variety of roles. In 2007, he co-founded and launched Waterman's Sunscreen, where he organized the sales and operations platforms and helped the company grow into a national brand in less than a year. Further, his consulting expertise was also instrumental in the unprecedented growth of the Stand Up paddleboard industry across the USA.
Pete has always had a passion for animal rights and has been a pet parent for most of his life. His ability to quickly engage and motivate his colleagues, as well as educate and inspire industry partners (distributors, retailers, customers) is an undeniable quality that has greatly contributed to the fast growth and success of Skout's Honor as an international brand in the pet specialty marketplace.
Skout's Honor is Better, Faster, Stronger than other products in its category, due to a proprietary odor eliminating technology and BioKore™ - a revolutionary green cleaning technology that breaks down and lifts away stains on contact. Both ingredients are biodegradable, bio-renewable and non-toxic – offering the most powerful and easy-to-use cleaning solutions on the market, while still being safe for use around pets, family and home.
The Forty Under 40 award recipients will be recognized and profiled in the December 2016 issue of Pet Age magazine and the full list of winners can be found here.
About Skout's Honor
Skout's Honor is a company based in Irvine, Calif. that offers BETTER, FASTER, STRONGER cleaning solutions to everyday pet stain and odor problems, including: Stain & Odor Remover, Odor Eliminator, Urine Destroyer, Litter Box Deodorizer, Cat Urine & Odor Destroyer and Patio Cleaner & Deodorizer. Founded by a team of animal lovers and proud pet owners, the company created its "Skout's Paw Pledge," and donates a day's worth of food for a shelter animal in need with every product sold. For more information on the products and for specific retailers, please visit SkoutsHonor.com