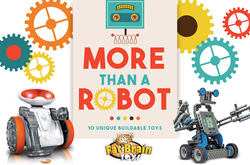 Elkhorn, NE (PRWEB) December 06, 2016
Fat Brain Toys has released a gift guide of robotic building toys that really shows the world how to enjoy "A Smarter Way to Play." These "smarter" toys teach children a range of building skills while strengthening their understanding of physics, hydraulics, suction power, alternate fuels and programming.
As a trusted independent retailer of educational toys and gifts, Fat Brain Toys has a unique inventory honed by the feedback of their loyal customer base. From this uniquely curated inventory, they have compiled a list of new robots as well as long-time, kid-tested favorites.
The robots range in difficulty from beginning engineering skills with the Salt Water Power Robot through the Erector-Set-Style Meccanoid with three distinct types of programmability.
More Than a Robot: 10 Unique Buildable Toys include:

Hydraulic Arm Edge Robot Kit: This kit uses vividly illustrated instructions to show beginner engineers both young and old how to piece together the 229 parts that will give them a fully functional robotic arm powered entirely by water.
Junkyard Drummer & Edge Detector Combo: Two robotic adventures in one set. Build a drumming machine that plays drums on castoff household items. Then, build a robot that zips across the table yet never falls off.
Clementoni Mio the Robot: The richly illustrated manual makes it easy to build a new friend and then learn all about the different and endless ways to can control it. Have it draw pictures with a marker, search for metal, navigate obstacles, and more.
Gyrobot – The Science of Gyrobots: Get an early spin on the technology that makes the modern world go 'round. Gyroscopes are used in smartphones, tablets, video game controllers, airplanes, satellite telescopes, and many more technologies. Build seven cool models to learn all about the science of gyroscopes and gyrobots.
Vex IQ Robotics Construction Kit: Kids build real robots using intuitive, tool-less construction and then control them with high tech sensors and controllers. Use the video-game-like controller to manually maneuver the robot, or switch to autopilot and let the sensors avoid objects.
Meccano Meccanoid G15: Build and program this robot, give it a nickname, then teach it to play. Program it 3 ways (Learned Intelligent Motion, Smart-Device Interaction, Motion Capture mimicry), and access over 1000 pre-programmed jokes, games, fun facts, and actions (like dancing or giving a high five.).
Geckobot: Build an astonishing wall-climbing robotic gecko while learning all about the intriguing science of suction and vacuums that makes it work. Then, rebuild it into six other unique models while discovering the gravity-defying possibilities of real-life engineering.
meeperBOT 2.0 Meeper Blue: This studded vehicular platform is powered by two motors and controlled by the meeperBOT Controller App on any smartphone or tablet. Build a race car, monster truck, land rover, etc, using standard interlocking brick construction kits. meeperBOT turns them into movable robotic masterpieces.
4M Salt Water Power Robot: Assemble the mini robot using the chassis, pivots, axles, wheels, and motor. The engine is powered by the addition of salt water to the aluminum and carbon sheets. This is a fun and simple construction kit to learn about alternative energy.
Recon 6.0 Programmable Rover: Training a robot to fetch is called "programming." Learn to program the ReCon Rover to go around obstacles, carry out missions, fetch, carry and even greet people with messages. No computer and no remote control required.
Fat Brain Toys wants to encourage parents to consider how much more their children can learn from playing with robotics. The More Than a Robot gift guide reminds families that robots are more than toys; they are tools that teach important skills that will be a useful foundation in our technological era.
More Hot Toys for Christmas 2016 can be found on the Fat Brain Toys website on a list that is updated daily based on real customer data rather than on marketing projections.
For More Information on Fat Brain Toys
http://www.fatbraintoys.com/about_us/presskit.pdf [http://www.fatbraintoys.com/about_us/presskit.pdf