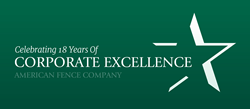 "American Fence Company is very proud of its long history of corporate excellence. All of our employees work hard to provide excellent customer service, and it is this dedication that has led to continued success." - Daniel Van Denburgh, President
Phoenix, AZ (PRWEB) December 07, 2016
For at least the eighteenth year in a row, American Fence Company received an Arizona Corporate Excellence award. This year American Fence was recognized as both a "Fastest Growing Company" and "Top Private Company" by Phoenix Business Journal, sponsor of the Arizona Corporate Excellence awards. The company won these same awards in 2015, marking back-to-back wins in both categories.
Despite repeated requests for information, American Fence Company was unable to confirm exactly how many consecutive Arizona Corporate Excellence awards they had won. Their records stretch back to 1997, when American Fence was recognized as an "Arizona Top 100" company. The format of the award changed in 2005 when American Fence won their first of eleven consecutive "Top Private Company" awards, recognizing the top fifty highest grossing private companies in the state.
Daniel Van Denburgh, President of American Fence, acknowledged, "American Fence Company is very proud of its long history of corporate excellence. We are one of the largest companies in the state of Arizona and operate seventeen branches in eight states, primarily in the western and southern United States. All of our employees work hard to provide excellent customer service, and it is this dedication that has led to continued success."
About American Fence - Established in 1948 and based in Phoenix, AZ, American Fence is a nationally recognized industry leader that has been professionally installing fence for over 60 years. Providing the highest level of products and service, American Fence Company provides all your fencing needs including temporary fence rental, commercial and industrial installation, and materials for fencing contractors and the "do-it-yourselfer". Additionally their High Security Perimeter Fencing division provides crash rated bollards, gates, and fences for military installations, data centers, and other sensitive corporate projects. American Fence operates their own tube and pipe mill and chain link weaving machines, and manufactures their own custom fabricated iron fence.