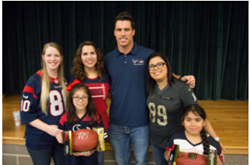 It's obviously their passion and for students to be that in tune with just writing in and letting us know that this means that much to them. It's a big deal
Houston, TX (PRWEB) December 06, 2016
Tuesday, November 29th, Spring Branch ISD teachers Lorenza Garay and Danielle Potts were honored as Stars in the Classroom by First Community Credit Union, FCCU and the Houston Texans. Linebacker Brian Cushing visited their school, Ridgecrest Elementary, to present the teachers and nominating students with prizes and a $500 donation to their school district.
"It's obviously their passion and for students to be that in tune with just writing in and letting us know that this means that much to them. It's a big deal," Cushing said.
During the ceremony Brian had a Q&A session with the students. He stressed the importance of staying in school and shared his educational experience with them. The students were beyond excited to have a Houston Texans player in their school.
Stars in the Classroom is a partnership between FCCU and the Houston Texans that honors 10 teachers all over Houston for making a difference at their schools. Students nominate their teacher and talk about why they have been an important figure in their lives. This year, Stars in the Classroom received around 400 nominations. Nominations are currently closed, but will open again in August 2017.
Click2Houston Presentation Coverage: http://bit.ly/2gvhUb3
About the Stars in the Classroom Program
First Community Credit Union began as a credit union for teachers in1954 and has been an avid supporter of education ever since. Stars in the Classroom was founded in order to honor and say thanks to just some of the many teachers who have a positive impact on their students every day. Employees of FCCU are deeply rooted in many Houston-area school districts and volunteer on various committees in Spring Branch ISD and Alief ISD. For more information about Stars in the Classroom and First Community Credit Union, please visit FCCU.org or texanschecking.com.