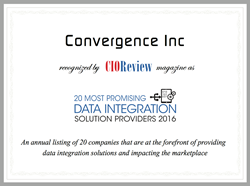 Fremont, CA (PRWEB) December 08, 2016
"It's a great honor to select Convergence, Inc. in our annual ranking list among the top 20 companies," said Jeevan George, Managing Editor of CIOReview. "Convergence, Inc. provides original insights into the business operations of the entire registered investment advisor universe with over 100 years of experience in the market place."
Convergence has created an entirely new platform comprising of research, surveillance and analytical products, all providing transparency into the infrastructure of the alternative asset management industry. It acquires, structures and enriches 2000+ artifacts sourced from daily SEC filings and other data sources. Convergence manufactures original content and analytics on 17,000+ registered investment advisors (RIAs), 58,000+ alternative funds and 6,000+ service providers. Over 10,000 State only filers are being added in Q1 2017.
For more information, the full article can be accessed through Convergence's website.
About Convergence, Inc.
Founded in 2013, Convergence is a leading emerging growth financial technology company – Focused on the alternative asset management industry analyzing the business model and infrastructure and providing transparency to an industry that has gone mainstream. It is the only firm contrasting and benchmarking advisor practices across the entire industry worldwide. For more info, visit: http://convergenceinc.com/
About CIOReview
Published from Fremont, California, CIOReview is a print magazine that explores and understands the plethora of ways adopted by firms to execute the smooth functioning of their businesses. A distinguished panel comprising of CEOs, CIOs, IT VPs including CIOReview editorial board finalized the "20 Most Promising Data Integration Solution Providers 2016" in the U.S. and shortlisted the best vendors and consultants. For more info: http://www.cioreview.com/