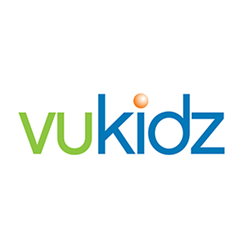 Toronto, ON (PRWEB) December 07, 2016
Vubiz, CFIB, M is for Money™ partner to offer financial elearning experience to kids.
Vubiz Ltd. has partnered with the Canadian Federation of Independent Business (CFIB) and Teresa Cascioli, award-winning entrepreneur and author of the M is for Money books, to launch a groundbreaking series of elearning courses focused on financial literacy and business skills for kids.
Lessons are designed to capture a child's attention with learning that is visual, fun and engaging. "We are proud to be part of this exciting project," said Vubiz President, Jim Rapino. "Business teaches kids valuable life skills and encourages entrepreneurship, a key driver of our economy. We believe it is important to leverage our expertise in elearning to help kids understand money, finance and business."
CFIB works to build prosperous communities by promoting the benefits of a strong entrepreneurial culture. "We are pleased to provide CFIB members with access to these valuable online lessons for their own families, and we strongly believe that this kind of financial and business learning should be introduced at an early age," said Dan Kelly, CFIB President. "Vubiz has offered our members unparalleled educational selections for the past decade, and elearning for kids adds a whole new level of learning."
"M is for Money is a kid's guide to financial literacy," added M is for Money creator and author Teresa Cascioli. "The nine books in the series grew out of my conviction that financial literacy is a fundamental life skill and is as important as reading and writing. I am delighted to be part of this exciting development that will bring M is for Money to an even wider audience in digitized format."
Ms. Cascioli, Mr. Kelly and Mr. Rapino have created a few videos explaining the importance of financial literacy for young people today. These videos also explain the benefits of the VuKidz series of financial literacy courses to CFIB members, as well as the other types of courses within the VuKidz offering.
About Vubiz
Vubiz is an award-winning eLearning company with cost effective, quality online courses and outstanding customer service. Vubiz has built an excellent reputation over the past decade, offering outstanding value with comprehensive services from a large, impressive online library to content creation to self-authoring tools and a LMS.
About CFIB
CFIB is Canada's largest association of small- and medium-sized businesses with 109,000 members across every sector and region.
About M is for Money – a kid's guide to financial literacy
The M is for Money book series teaches children important money concepts in a fun and creative way. The 9 books have been awarded the prestigious Parent Tested Parent Approved seal and include The Little Piggybank, The Little Lemonade Stand, The Little Trip to the Bank, The Little Wallet Named Pouch, A Little Loan for Benji, Under the Couch we found Money, Counting Comes First, The Payback and Giving is Great.