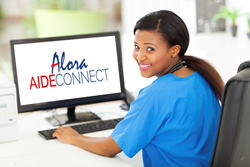 AideConnect allows Homecare agencies to monitor aides for timely patient visits, staying on top of what is occuring the field. Additionally the system captures proof of visit, while empowering aides to complete visits on their mobile devices.
Atlanta, GA (PRWEB) December 08, 2016
Atlanta based Home Care Software provider Alora Healthcare Systems has just announced the release of Alora AideConnect, a complete integrated solution within Alora for both agencies and home care aides conducting non-skilled care visits. The solution is unique in that it addresses both sides of the comprehensive workflow of agencies providing non-skilled care.
AideConnect empowers the agency with the ability to monitor all visit activity in real time, providing control of what is happening in the field while simultaneously capturing proof of visit. Additionally, home care aides are granted access to a software tool whereby they can check their schedules, capture a patient's signature, and complete plan of care based visit notes. The combination of insuring agency compliance, visitation control, and the automation of workflow, potentially positions AideConnect as a game-changer in an industry where efficiency and profitability are increasingly critical to success.
Alora CEO Sathish John has actively taken an interest in staying in tune with the needs of agencies operating in all areas of homecare. "We knew based on what we heard over the last two years from customers and others in the industry that a good number of non-skilled care agencies were bogged down by dealing with too much paperwork, not enough operational control, and ambiguity surrounding the status of their visits. A lot of managers have to focus on compliance as well as profitability, but when you're not sure how your aides are performing, it complicates things further. We wanted to develop a solution that eased the burden on the field staff as well as the administrative staff," stated John.
While AideConnect provides agencies with a live view of all home visit activities in real time, that is only the beginning of the benefits it holds. The system captures proof of visit, GPS coordinates, electronic patient signatures, and allows agencies to easily define specific rules and parameters to the exact demands of their unique workflow. At the same time, aides conducting the visits are able to complete visit notes on their mobile devices, with the system automatically providing statuses back to the agency indicating the visit was completed, delayed, or missed.
The company released a video on AideConnect's benefits on their official YouTube channel as well as on their website and across social media platforms. Going into 2017 there are plans to add even more functionality into AideConnect that will be focused on giving Alora Software users the ability to have even more control of the way the solution integrates with their agency's workflow. In the spring, Alora will also host a series of promotional and educational webinars centered on how software for homecare aides and other integrated solutions impact staff productivity while minimizing costs.
About Alora Healthcare Systems
Alora Healthcare Systems LLC is the industry leader in providing affordable, comprehensive software solutions for the Home Health industry. The company was founded in 2005 by Sathish John, with a goal of developing an all-in-one, easy to use, solution for Home Health Care fully supported and adaptable to all types of agencies in the industry. With over 20,000 loyal users in most states within the U.S, Alora is a well trusted name among home health care agencies. For more information on AideConnect and Alora Home Health Software please visit http://www.AloraHealth.com or contact Alora by email at info(at)alorahealth.com or call 1-800-954-8250.
Media Contact: Imari Adams, Alora Healthcare Systems, 800-954-8250, Iadams(at)alorahealth.com