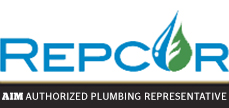 Cranston, RI USA (PRWEB) December 07, 2016
AIM is pleased to announce the addition of Repcor as its new representative for AIM's complete line of solder materials for the plumbing industry. Repcor will provide assistance to AIM customers in northern California and Northern Nevada in finding optimal solutions for their soldering needs.
The experience Repcor brings will make for an excellent addition to AIM's Plumbing Division team of representatives. With the addition of Repcor, AIM will continue to solidify client relations in northern California and northern Nevada.
For more information about Repcor please contact by phone at 916-386-2233 or visit http://www.repcor1.com
About Repcor
Repcor is a recognized agency servicing the plumbing, waterworks, fire protection, industrial and turf irrigation markets in Northern California and northern Nevada. Repcor is a member and supports trade associations in all markets they operate in, including but not limited to AWWA, WSA, AFSA, NFSA, PHCC, APMC, IAPMO, ASPE, NCBPA, BIA, CLCA, ASLA, AIM/R, DPHA and IA.
About AIM Alloys Division
AIM Alloys specializes in standard and custom industrial-grade metals and alloys for casting, plating, and soldering for the industrial and plumbing industries. AIM's manufacturing is ISO 9001 and ISO 14001 certified and products are manufactured using high-purity metals. AIM offers one of the most robust support systems in the industry, providing metallurgical assistance, extensive inventory, and flexibility in formulas, shapes, quantities. AIM's direct sales force and authorized distributors and representatives guarantee reliable and immediate service. For more information on AIM Alloys, visit http://www.aimalloys.com.