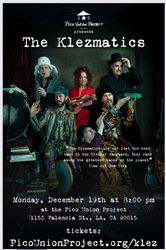 "The Klezmatics aren't just the best band in the klezmer vanguard; on a good night, they can rank among the greatest bands on the planet." –Time Out New York
Los Angeles, CA (PRWEB) December 06, 2016
Limited tickets are available for Grammy-winning Klezmatics' one night only performance at the Pico Union Project on December 19th. "The Klezmatics are legendary music change makers in our community and around the world. This an extremely rare opportunity to see these amazing musicians up close and intimate," said Craig Taubman, Founder of the Pico Union Project. The Klezmatics' way of reclaiming tradition in the 21st century is a great way to get in the holiday spirit.
The Klezmatics have delivered joy and pleasure to millions of fans who have discovered their music since their formation 30 years ago. In that time, the Klezmatics have raised the bar for Eastern European Jewish music, made aesthetically, politically and musically interesting recordings, inspired future generations, and created a large body of work that is enduring. Soon the Klezmatics will release Apikorsim/Heretics, a new album celebrating their 30th anniversary. Their performances on programs such as CBS's Late Night with David Letterman, PBS' Great Performances, BBC's Rhythms of the World and Garrison Keillor's A Prairie Home Companion have helped them reach millions. Recording by The Klezmatics have often topped Billboard Magazine's world music charts and they have collaborated with such luminaries as Arlo Guthrie, Itzhak Perlman, Allen Ginsburg, the Ben Folds Five, Israeli pop icons Chava Albertstein and Ehud Banay and the late Theodore Bikel.
Young adults are invited to Miracles, Magic & Martinis- a cocktail hour starting at 7:00, and featuring artisanal latkes, roving magicians and hannukah-tinis! Tickets for this group are discounted as part of the Infinite Light citywide festival, which is made possible by a partnership with NuRoots.