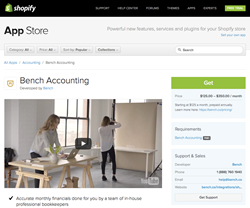 'By using Bench, Shopify merchants will not only get organized, tax-ready financials but also have them displayed in a way that's easy to understand and make informed decisions against.' - Ian Crosby
Vancouver, British Columbia (PRWEB) December 13, 2016
Bench, the online bookkeeping company, today announced a new integration with Shopify, the leading cloud-based multi-channel e-commerce platform. Shopify merchants across the United States can now fully outsource their bookkeeping needs to Bench, a white-glove full-service that organizes the financials of small businesses, making the information digestible with the combination of intuitive software and a team of real, online bookkeepers. Bench will be helpful in better equipping Shopify merchants to make financial decisions critical to their business's success and growth.
"Bookkeeping represents a challenge for entrepreneurs who, more often than not, find themselves strapped for time or ill-equipped to handle the management of their finances," said Ian Crosby, Co-Founder and CEO of Bench. "By using Bench, Shopify merchants will not only get organized, tax-ready financials but also have them displayed in a way that's easy to understand and make informed decisions against. Knowing where you stand financially is a strategic piece of any business, but for small business owners, it can mean the difference between going under, and staying afloat."
Back-office tasks, like bookkeeping, are consistently cited as entrepreneurs' most time-consuming and dreaded tasks. The new Shopify and Bench integration in the Shopify App Store will not only resolve this pain-point but will give small business owners easy access to the support they need (an entire team of bookkeepers) and peace of mind knowing that their financials are accurate, accessible and easy to digest. Time that was once spend buried in back-office tasks, outside of an entrepreneur's wheelhouse, can now be re-focused on scaling the core business and driving its success.
"Bench is one of the largest bookkeeping services in North America and a valuable addition to the Shopify ecosystem," said Atlee Clark, Director of Apps and Developer Relations at Shopify. "As our merchants continue to grow their needs for accounting and business support tools only increases. Solutions like Bench, help merchants streamline and simplify the crucial business functions that put business owners on the right track to success."
In an on-going effort to better support entrepreneurs, small business owners, and independent contractors in their entrepreneurial pursuits, Bench partnered with Gusto, the online payroll and benefits provider, earlier this year.
-33-
About Bench
Bench is a four-year-old fintech company that automates accounting tasks to organize the financials of small businesses, independent contractors, and entrepreneurs. Pairing its intuitive software with a live bookkeeping team, Bench combines the convenience and efficiency of modern technology with the expertise and time-savings afforded by a professional service to let business owners get back to doing what they love: running their business. Clients receive tax-ready financials, including beautiful monthly Profit & Loss and Balance Sheets.
Bench was founded by Forbes 30 Under 30 winner, Ian Crosby along with Jordan Menashy, Adam Saint and Pavel Rodionov in 2012. Bench has raised $33M to date, services thousands of business owners across the country and currently employs 230 people out of its North American headquarters. Follow @Bench or visit https://bench.co/.