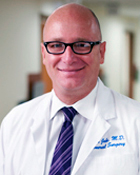 "Even with daily use of acid-blocking medications known as proton pump inhibitors (PPIs), nearly 30 percent of GERD patients continue to suffer life-altering symptoms." - Blair Jobe, MD, principal investigator, AHN
PITTSBURGH, PA (PRWEB) December 07, 2016
Allegheny Health Network (AHN) is one of just nine sites nationwide participating in a clinical trial of EndoStim, an investigational, minimally invasive procedure that may help improve symptoms of Gastroesophageal Reflux Disease (GERD), a chronic condition that affects the lives of millions of Americans.
GERD is the chronic backflow (reflux) of stomach contents into the esophagus, causing burning pain in the chest, regurgitation and a variety of other symptoms. It is often caused by a weak valve, or sphincter, between the esophagus and stomach, called the lower esophageal sphincter (LES).
"Even with daily use of acid-blocking medications known as proton pump inhibitors (PPIs), nearly 30 percent of GERD patients continue to suffer life-altering symptoms," said Blair Jobe, MD, principal investigator and director of the Esophageal and Lung Institute at AHN. "People who struggle with GERD but do not get complete relief from daily heartburn medications may be candidates for the EndoStim clinical trial, known as LESS GERD."
With EndoStim, two small electrodes , connected to a neurostimulator, are placed on the lower esophageal sphincter. Throughout the day, the EndoStim delivers mild electrical signals – undetected by the patient – that are designed to restore normal function to the lower esophageal sphincter.
The device is implanted below the skin and unlike traditional anti-reflux surgery, it is designed to preserve the body's natural anatomy in order to reduce or avoid gastro-intestinal side effects.
For more information about enrolling in the LESS GERD trial, contact Emily Lloyd at 412.578.1343 or Emily.Lloyd(at)ahn(dot)org , or visit lessgerd.com, or call 1-888-578-8390.
About the Allegheny Health Network:
Allegheny Health Network (AHN.ORG), part of Highmark Health, is an integrated healthcare delivery system serving the Western Pennsylvania region. The Network is comprised of eight hospitals, including its flagship academic medical center Allegheny General Hospital, Allegheny Valley Hospital, Canonsburg Hospital, Forbes Hospital, Jefferson Hospital, Saint Vincent Hospital, Westfield Memorial Hospital and West Penn Hospital; an employed physician organization, a research institute, health + wellness pavilions, home and community-based health services and a group purchasing organization. The Network employs approximately 17,500 people, and has more than 2,100 physicians on its medical staff. The Network also serves as a clinical campus for Temple University School of Medicine, Drexel University College of Medicine and the Lake Erie College of Osteopathic Medicine.