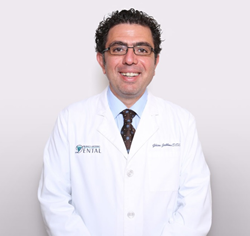 Our new website has taken steps to better educate patients and make it easier than ever to schedule an appointment
San Antonio, Texas (PRWEB) December 08, 2016
Blanco Crossing Dental, located in the Stone Oak area of San Antonio, has launched a brand new website. This user-friendly website allows patients to easily book an appointment, read reviews, and learn about the cosmetic and general dentistry treatments that are provided. Led by Dr. Ghias Jabbour, the mission of Blanco Crossing Dental is to treat each patient in a compassionate manner while providing the highest quality care in a stress-free environment.
The new website, http://www.BlancoCrossingDental.com, was designed to provide patients with an online educational experience, while providing a user-friendly experience with improved navigation and functionality. The new website allows visitors to access detailed information about the services provided by Dr. Jabbour. The site's more modern look and improved navigation is designed for an enhanced user experience when viewed across several different browsers and mobile devices.
A new feature included on the website is the ability for patients to make an appointment online. Patients can complete the appointment request form at any time of day and a staff member will follow-up with the patient to confirm the date and time of the appointment. The website is also linked to the Blanco Crossing Dental profile on ZocDoc. Patients with a ZocDoc account can schedule appointments without leaving the practice's website.
To help reduce the time spent in the reception area completing new patient paperwork at the first appointment, downloadable forms for all new patients are available on the website. New patients can print the forms out and bring them completed to the office for their first appointment.
The website also includes a list of in-network insurance providers, financial policy, and any current specials being offered to both new and existing patients.
"My greatest goal as a dentist is to provide optimal dental health in an ethical and caring environment, while making sure the patient is fully informed about their dental healthcare options. Our new website has taken steps to better educate patients and make it easier than ever to schedule an appointment," said Ghias Jabbour, DDS.
For more information, contact Blanco Crossing Dental at 210-314-7949 or visit BlancoCrossingDental.com.
About Blanco Crossing Dental
For over 20 years, Dr. Jabbour has been helping the community achieve optimal dental health. Blanco Crossing Dental offers a full range of dental services, including general dentistry, cosmetic dentistry, treatment for gum disease, teeth whitening, root canal therapy, veneers, Lumineers®, wisdom teeth removal, tooth bonding, dental crowns, dental bridges, full and partial dentures, oral cancer screenings, and offers same-day appointments for dental emergencies. For patients that are apprehensive about visiting the dentist, Blanco Crossing Dental offers sedation dentistry. Blanco Crossing Dental offers two types of sedation dentistry – inhaled (nitrous oxide) and oral sedation. Blanco Crossing Dental is located at 19179 Blanco Road, Suite 106, San Antonio, TX 78258. Patients can schedule appointments by calling 210-314-7949 or by visiting BlancoCrossingDental.com.