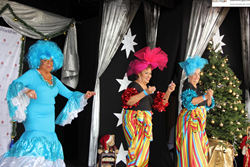 Cancun, Quintana Roo (PRWEB) December 08, 2016
The Golden Years Club began its holiday celebrations going through the time tunnel and taking all participants down memory lane to another moment in their lives.
With the participation of over 170 club members and with Sunset Royal hotel as the host, the club held its 2016 traditional pre-Christmas celebration in an event called "Bring the stars back to life" where participants truly resorted to their artistic talents and took hold of their memories interpreting the roles of the grandest stars in show business. Participants show their ability and flair in drama, singing, dance and poetry bringing to life one or more icons from film or television.
The event was proof of the artistic qualities of the clubs members as dressed up, set to music and with great enthusiasm they showed a professionalism that would be hard to match. "The energy and vitality of the Golden Years Club members is so contagious that it makes the show truly enjoyable for all involved from beginning to end," said Annie Arroyo, Corporate Brand and Communication Director at Sunset World.
Mónica Roberts, Corporate Director of Operations for Sunset World stressed that the quality of the acts presented by the members of the club were a true display of talent and skill.
With this event, the Golden Years Club is a living example that age does not matter when it comes to competing, rather the willingness and enthusiasm to do a job well done and the participants got more than a resounding applause, in addition they received the recognition for their talent, their ability and aptitudes and, above all, for their long life experience