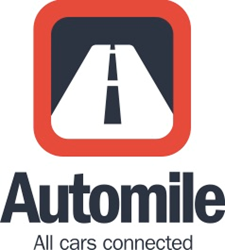 Automile is helping businesses solve for key field-service challenges by keeping design and data at the heart of our solution.
PALO ALTO, CA and STOCKHOLM, SWEDEN (PRWEB) December 08, 2016
Automile, a leading IoT Telematics company, today introduces its latest product release to further transform how companies manage their fleet operations. Leveraging the power of Internet of Things (IoT) technology and big data, Automile makes it easy for small, medium and enterprise-level businesses keep a pulse on their vehicles and drivers, boost productivity and save costs.
"We're helping businesses solve for key field-service challenges by keeping design and data at the heart of our solution," says Jens Nylander, CEO and founder of Automile. "Our focus is on making our customers' experiences intuitive and actionable, whether they're monitoring driving behavior or tracking vehicles in real time, reporting vehicle inspections and expenses, or securing vehicles from unauthorized use. These latest product enhancements make it simpler and more enjoyable for business owners and fleet managers to stay on top of their fleet health."
New Features to Delight Field Service
Since 2013, Automile has revolutionized fleet management with its easy-to-install smart device and beautiful web- and mobile-based apps. The elegant solution delivers a level of ease of use and cost-effectiveness unmatched by legacy providers in the space—and with its newest features derived directly from customer feedback, Automile introduces enhanced functionality making it easier than ever for users to:
-- Record expenses with just a few taps: Whether it is parking fees or fuel costs, recording such expenses is a breeze along with taking a picture of the proof of expense and exporting it for reimbursement.
-- Say goodbye to paper-based vehicle inspections: Say "no" to the errors and hassles of paper-based logging. Paperless vehicle inspections are here, enabling drivers to record and report on defects in seconds. And that means faster turnaround on repairs and effortless communication, savings businesses time and money.
-- Revel in the magnificence of great design: Automile's engineers looked at how customers navigate and use the web app and they redesigned it to further simplify the experience, dedicating more screen space to what's most relevant to users. It's Automile's design-centric approach in action.
ROI: More to Love About Automile
These innovative features complement Automile's existing functionality, including its IRS-compliant mileage log, driver identification, task assignment and messaging, real-time tracking and detailed reports, plus geofencing and timely alerts on speeding and harsh driving behaviors—tools that help provide complete control over the fleet.
"We've had a 66% cost savings merely by switching to Automile," say Desmon Edwards, VP of Operations at Jamar Power Systems, a California based company that performs solar power installations, general electrical wiring and electrical integration. "But the true savings in terms of money, time and resources are way more. In monitoring a 15-minute discrepancy in tracking a worker's time log, what seems like pennies turns into thousands of dollars saved."
Automile offers businesses a 60-day trial at no cost. Automile Pro is only $14.90/vehicle/month with discounted pricing for fleet size of 10+. Learn more about Automile at https://automile.com.
About Automile
Automile offers a smart device that can be simply plugged into a vehicle to start tracking and managing it in seconds. It is used by business of all sizes across the United States and Europe to optimize fleet performance, gain greater visibility into their drivers and vehicles and ultimately improve the bottom line. With an innovative API and extensive partner program, Automile is committed to collaborating to ensure the best product possible for its customers. Headquartered in Palo Alto, Calif. and Stockholm, Sweden, Automile continues to leverage SaaS and IoT technology to disrupt the traditional approach to fleet management. Learn more at: Website | Twitter | LinkedIn | Facebook