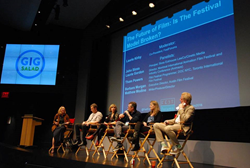 The attendees are from a diverse range of festivals which is the key to FestForums' success
SANTA BARBARA, CA (PRWEB) December 08, 2016
FestForums, the bi-annual and bi-coastal festival-industry conference, has announced the dates for their 2017 conferences. FestForums NYC '17 dates are Thursday & Friday, May 11 & 12, 2017. The FestForums Santa Barbara '17 event will be held Thursday-Saturday, November 16-18, 2017.
FestForums are networking and professional development conferences for music, film, food & beverage festival organizers as well as entertainment industry leaders.
Stated co-founders Stuart MacNaught and Laurie Kirby, "The conferences we hold in New York and Santa Barbara celebrate and bring together the industry leaders transforming the festival culture that is central to transformation and change today."
The New York Conference begins Thursday, May 11th, at 9am at the beautiful, new headquarters of Time Inc., located downtown overlooking the Hudson River.
Panelists in NYC include producers of festivals such as New York City Wine and Food Festival, South Beach Food & Wine Festival, Los Angeles Food and Wine, Austin Film Festival, Firefly, Governors Ball, New York Festivals, Global Citizen
Festival, Superfly Festivals, Tribeca, TIFF, Live Nation festivals, Ultra Music Festival, Electric Daisy Carnival, The CBGB Music & Film Festival as well as hundreds of other festivals.
"The attendees are from a diverse range of festivals which is the key to FestForums' success," reports Kevin Lyman, founder of Vans Warped Tour. "Happily, I come away with many new and innovative ideas that I can integrate into my business."
Past participants include "Supermensch" Talent Manager Shep Gordon, Recording Artist Jack Johnson, Director Quentin Tarantino, Actor Bruce Dern, Woodstock co-founder Michael Lang, Rock 'n' Roll Hall of Famer Dave Mason, Recording Artist Rita Coolidge, Actor Malcolm McDowell, Film Festival Gurus Gary Meyer and Noah Cowan, Rock Star Alice Cooper, Iron Chef Cat Cora, Celebrity Chef and internationally renowned restaurateur Roy Yamaguchi, Lawyer Jon Sloss, SXSW's Mike Shea, Vans Warped Tour Founder Kevin Lyman, Glastonbury Festival's Robert Richards, The Weinstein Company's Richard Glasser, Event Producer Scott Mirkin, Sponsorship guru Lesa Ukman, and filmmakers such as Tia Lessin, Laura Michalchyshyn and Matthew Modine and hundreds of festival producers.
The conference also features parties, networking events, mentoring, an exhibit hall and live streaming.
For more information, visit FestForums.com
# # # #