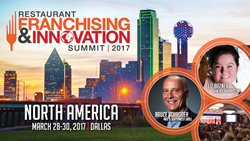 Guests want food clean, customized and convenient without sacrificing an experience that they value over just the food.
LOUISVILLE, KY (PRWEB) December 08, 2016
Customers are well-informed and more demanding than ever, which is why so many brands rely on a variety of technologies to meet their needs. Moe's Southwest Grill is no exception.
"(Guests) want (food) clean, customized and convenient without sacrificing an experience that they value over just the food," said Bruce Schroder, president of Moe's Southwest Grill, who will discuss some of the brand's digital strategies March 28-30 in Dallas at the annual Restaurant Franchising & Innovation Summit. "Our industry is going through a great deal of transformation. Fast casual is in the same over-supply situation that QSR encountered years ago. We're no longer the best-kept secret, so we have to work harder to differentiate as exciting new options enter the market every day."
One of those exciting differentiators is Moe's recent augmented reality campaign built around in-restaurant artwork. Customers can view six pieces of artwork, which pay tribute to the music pioneers of the past and present, via Moe's Rockin' Rewards loyalty app. The app also gives guests an opportunity to interact with the art and bring Moe's 20+ fresh ingredients to life through their mobile phones. Specifically, guests can leverage the AR feature to play the onion drums, see bees buzz and create melodies with Moe's 17 quintillion high-quality food combinations that customers can customize to fit their unique lifestyles and tastes, all while having fun, Schroder said.
"We don't take ourselves too seriously, but we are serious about serving food you can feel great about eating," he said.
Like Moe's, A&W Restaurants also relies on digital marketing to keep customers engaged, said Liz Bazner, digital manager of A&W, who will speak on the summit's "Tech Talk" panel. She hopes sharing her experiences with attendees will help them understand the importance of using technology to please their guests.
"Digital media is always changing, so it's important to stay up-to-date with the latest trends and developments," she said. "I love meeting and talking with people from other brands to learn about their approach to various challenges and opportunities that franchisors face on a regular basis."
Other summit speakers include experts from Taco John's, Church's Chicken, Ruby Tuesday's, Pei Wei, Arby's, Smoothie King, Zoup!, Which Wich, Dickey's Barbecue, MOOYAH Burgers, Front Burner Brands and Schlotzsky's.
The three-day event also includes a variety of networking opportunities, including an offsite dinner at Times Ten Cellars, a winemaking facility that serves wines from vineyards in Texas and California.
Early bird pricing ends Dec. 16, which includes a $200 discount (no code required), registration is available here.
Speaker opportunities and sponsorship opportunities are also available.
About Networld Media Group
Founded in 2000, Networld Media Group is a leading business-to-business (B2B) media communications company specializing in digital media, associations and events in the mobile, self-service, digital signage, retail, food service and financial services industries. Online properties include ATMmarketplace.com, DigitalSignageToday.com, FastCasual.com, PizzaMarketplace.com, KioskMarketplace.com, MobilePaymentsToday.com, VirtualCurrencyToday.com, QSRweb.com, RetailCustomerExperience.com and ChurchCentral.com. Networld event properties include the Fast Casual Executive Summit, CONNECT: The Mobile CX Summit, Interactive Customer Experience Summit, Bank Customer Experience Summit and the Restaurant Franchising & Innovation Summit. Networld also operates the ICX Association. Its newest offering, Networld Press, provides clients with an all-in-one website solution featuring custom website design and ongoing editorial, content strategy and website updates.
###