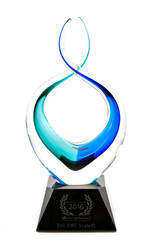 StorageReview Editor's Choice Award
Cincinnati, Ohio (PRWEB) December 08, 2016
StorageReview is pleased to announce the establishment of the StorageReview Editor's Choice Award Program. StorageReview has built up one of the largest independent test labs to put hardware through rigorous real-world testing scenarios, and regularly publishes independent product reviews. As part of the product review process, StorageReview will be judiciously awarding an Editor's Choice award to the best-of-the-best products that are examined in the StorageReview Enterprise Test Lab. The lab is designed to handle everything from rack-scale storage arrays down to single SSDs.
According to Brian Beeler, StorageReview Editor-in-Chief, "Our skilled team puts many products through rigorous lab testing and benchmarks every year. When we see an outstanding product that stands above the rest in its field or in the marketplace, we will grant that product our Editor's Choice award."
StorageReview conferred its first Editor's Choice Award to Dell EMC's VxRack Node Powered by ScaleIO after months of testing and benchmarking in the StorageReview Enterprise Test Lab. According to Lab Director Kevin O'Brien, "Dell EMC ScaleIO is far and away the most impressive storage array that we've not only seen this year, but probably ever. The performance, flexibility and reliability of ScaleIO is nothing short of astounding."
When presented with the prestigious award, Josh Goldstein, Vice President of Marketing and Product Management for ScaleIO at Dell EMC remarked: "We're honored that StorageReview has recognized ScaleIO with their first-ever Editor's Choice Award. StorageReview's rigorous testing validates what our customers already know—that ScaleIO is the gold standard for software-defined storage, in both conventional and hyper-converged deployments."
StorageReview granted its second Editor's Choice Award to VMware vSAN™, calling it the "best mainstream software defined storage offering available." In their latest review of VMware vSAN 6.2 All Flash, StorageReview editors note that the product "gives organizations the chance to leverage flash in new and exciting ways, driving both efficiency and performance gains."
"We are proud that VMware vSAN has been recognized by StorageReview for an inaugural Editor's Choice Award," said Lee Caswell, Vice President of Products, Storage and Availability, VMware. "This award confirms the value of vSAN as a primary building block for the software- defined data center. The award also recognizes the importance of embedding software-defined HCI with the world's leading hypervisor. This integration offers the most efficient HCI solution as well as the best management experience for VMware-powered HCI systems."
If you are interested in having your products evaluated by StorageReview, please contact Brian Beeler, Editor-in-Chief.
StorageReview.com is a world leading independent storage authority, providing in-depth news coverage, detailed reviews and lab services on storage arrays, hard drives, SSDs, and the related hardware and software that makes these storage solutions work. StorageReview's emphasis is on storage solutions for the mid-market and enterprise, with limited coverage of core brands that offer client storage solutions.
Contact Information:
StorageReview.com
Brian Beeler
7420 Jager Court
Cincinnati, Ohio 45230
info(at)storagereview(dot)com
***
VMware and vSAN are registered trademarks or trademarks of VMware, Inc. in the United States and other jurisdictions.