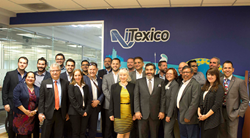 This delegation visit to Mexico centered on fueling our economy, expanding access opportunities for our members and reinforcing our deep cultural ties with Texas' most prominent trading partner.
Austin, TX (PRWEB) December 08, 2016
iTexico's collaborative nearshore services model -- which integrates work teams in Austin, Texas and Guadalajara, Mexico with customers' teams -- was among the highlights observed during a six-day, five-city visit by Austin Mayor Steve Adler and a large delegation of business and civic leaders from Texas' capital city.
Adler was part of a delegation which included city council members, officials from the city's economic development department, and members of the Greater Austin Hispanic Chamber of Commerce (GAHCC). The group traveled to Mexico in early December to promote the shared business and cultural interests between Austin and Mexico, as part of the Mayor's attendance at the C40 Mayors Summit in Mexico City.
As part of their activities, several delegates from Austin visited iTexico's offices at the Software Center in Guadalajara. iTexico's CEO & Co-Founder, Anurag Kumar, and COO, Guillermo Ortega, presented information on the company and took the opportunity to share information about the scope of the IT and business ecosystem in Guadalajara and Jalisco.
While in Guadalajara, Adler took the opportunity to participate in a "speed-dating" style business roundtable, during which the Austin delegation spoke with 50 Mexico-based companies about opportunities to do business, and share resources, with companies in Austin.
Members of the delegation found great value in learning about the opportunities and resources that exist south of the border.
"It was an honor to host delegates and officials from Austin and Texas. We learnt a lot from them how the relationship between Texas and Mexico is being perceived and hopefully provided them a fresh perspective and reality on the ground. We shared about our own experience in conducting business in Mexico and how much mutually beneficial it is for both, US and Mexico. Rhetorics aside, we need to continue to find ways to work together, grow the two economies and create jobs", observed Anurag Kumar.
"The contacts with both our delegation and the companies, government, and universities here in Mexico have been extremely valuable, both professionally and personally," said Dax Patton, the business development manager for the SXSW conference, and a member of the delegation. "I'm not sure I would have had the opportunity to learn so much as I have on this trip, including the effects that the economies of the United States, Texas, Austin, and Mexico have on one another. I now know how important the relationship with our neighbors, brothers, and sisters to the South really is."
"This delegation visit to Mexico centered on fueling our economy, expanding access opportunities for our members and reinforcing our deep cultural ties with Texas' most prominent trading partner," said Mark Madrid, president and CEO of the GAHCC. "This visit was all about collective impact, a productive joint future and, ultimately, about fortifying economic and cultural bridges that link our remarkable Austin with Guadalajara, Zapopan, Mexico City, Monterrey and Saltillo."
About iTexico
iTexico is devoted to delivering leading-edge, user-engaging applications and software services to its clients, by leveraging an innovative nearshore model. With its headquarters in Austin, TX, as well as a wholly-owned software development and delivery center in Guadalajara, Mexico, iTexico provides dedicated teams for mobile and cloud development, testing, and support. iTexico has experienced significant growth every year for the last 5 years and maintains strong business partnerships with many large-scale tech companies, including Axway, IBM, Xamarin, and Microsoft. iTexico employs more than 140 professionally trained mobile and cloud developers. For full information on how our services can help you, please visit our homepage at http://www.itexico.com