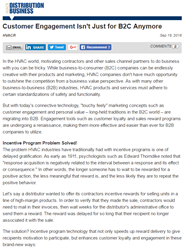 Incentive programs' availability through online and mobile apps makes them suitable for B2B industries in a way they never were before.
Atlanta, GA (PRWEB) December 14, 2016
In a new article recently published by HVACR Distribution Business, Incentive Solutions CEO Steve Damerow offers HVAC business leaders expert advice on incentives-based channel marketing. Damerow's article, "Customer Engagement Isn't Just for B2C Anymore," focuses on how online and mobile technology has changed consumers' relationships with businesses. This results in new challenges as well as new opportunities for HVAC leaders to utilize incentive program technology in customer relations.
Consumers' easy access to information about companies has resulted in B2B customers behaving more like B2C customers, Damerow says. Customer relationship cornerstones like engagement and personal value have found their way into B2B marketing. The same online and mobile technology that helps B2C companies stay connected with consumers can also help B2B companies improve customer relations. Today's channel incentive programs, which offer B2B customers extra personal and professional benefits for doing business with certain companies, are flexible and can be integrated with channel management and sales tracking.
Among the benefits of online incentive technology is its ability to speed up sales claims data exchange. Damerow consulted Loyaltyworks VP of Sales Luke Kreitner for his article to explain the specific ways incentive technology helps channel sales performance. Incentive programs' availability through online and mobile apps, Kreitner says, "makes them suitable for B2B industries in a way they never were before. Sales reps can scan or take pictures of claims and…instantly earn rewards in the form of online points, which they can spend in a digital catalog similar to Amazon or Overstock."
Additionally, emerging technologies make the claims verification process more efficient. Damerow says, "Online incentive technology is capable of automatically auditing sales claims by UPC, part number, delivery location, claim amount and virtually any other parameter you can think of."
Making channel incentive programs faster and more convenient increases their value and B2B customers' engagement. In today's markets, in which personal value and engagement are just as important for B2B industries as they have traditionally been for B2C, tools and technology that benefit and engage customers are significant B2B differentiators.
About Incentive Solutions
Incentive Solutions, Inc. was founded in 1994 and is based in Atlanta, GA. Part of The Incentive Solutions Group of Companies, consisting of Incentive Solutions and Loyaltyworks, Incentive Solutions offers online rewards, travel incentives and gift card reward programs. Since its creation, Incentive Solutions has been an innovator in the incentive industry by utilizing emerging online technologies that help companies increase sales, engage and motivate employees, encourage customer loyalty, create positive work environments, and enrich sales channel relationships.
Incentive Solutions
2299 Perimeter Park Drive, Suite 150
Atlanta, GA 30341
(770) 457-4597
1-866-567-7432