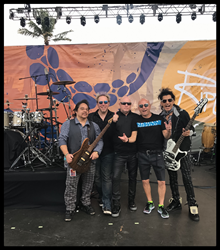 I am so thankful for the opportunity to work with Mike Score and A Flock of Seagulls, Josh Harris, and all of the DJs and remixers on the project. We are having an amazing time together in the studio.
Miami, FL (PRWEB) December 09, 2016
Get ready to meet "PEDRO"—the new up-tempo chill lounge groove from poet Jimmy D Robinson and the Grammy® award-winning group A Flock of Seagulls! The third single from this eclectic music faction, produced by Josh Harris, drops deliciously this coming week and promises to take music lovers on an inimitable voyage. Inspired by a dreamy Puerto Rican seduction, "PEDRO" will escort the listener to the faraway tropical region of their mind. "PEDRO" is a journey to a provocative awakening, characteristically found while being wrapped in the arms of a soul mate. Robinson and Seagulls' "PEDRO" will lead hearts and souls to a wonderful bliss.
"I never imagined myself making chill music, but I've always loved it immensely," states Jimmy D Robinson. "I am so pleased that this project has gone over well with the arty crowds and DJs. Art Basel was a true litmus test and it passed with flying colors! I am so thankful for the opportunity to work with Mike Score and A Flock of Seagulls, Josh Harris, and all of the DJs and remixers on the project. We are having an amazing time together in the studio."
On the beaches of Fort Lauderdale, FL, this past Sunday (Dec. 3) at the Riptide Music Festival, Robinson and Seagulls band members had even more reasons to celebrate, as their first single release, "Ageless Prince," is now charting at #9 on the The Buzz Chart throughout Europe. "In the Garden," their second single is also breaking hallowed ground in the U.S. A perfect marriage of art and music, DJs were spinning "In the Garden" throughout Art Miami and Art Basel events and parties. See Getty Images from the Art Basel event.
"I'm thrilled to be working with Jimmy D Robinson and Josh Harris," states Mike Score the lead singer of A Flock of Seagulls. "I am very excited about 'PEDRO' finally coming out too. It is my favorite record we've made together thus far. It is an upbeat and beautiful tapestry of music."
"PEDRO" marks the 35th Anniversary of A Flock of Seagulls and is the third single from the forthcoming album titled, "Living in Time," due out in late Spring 2017. Utilizing abstract and lyrical poetry from all of Robinson's poetic works, A Flock of Seagulls sets the words to music under the seasoned ears of international record producer Josh Harris. Adding to the layers, Robinson makes a spoken word vocal appearance on the third single "PEDRO."
"It's been a blast to work with Mike Score and Jimmy on this project," states music producer Josh Harris, whose credits range from The Killers and Korn to Cher and Lil' Kim. "Jimmy lets me do what I do as a producer, and Mike's ability to adapt Jimmy's poems to my tracks has been a seamless process. Mike has a great sense of melody. I've always been a fan of A Flock of Seagulls, so it's very exciting to work with him in this capacity."
Backstage at the Fort Lauderdale, FL Riptide Music Festival, Jimmy D Robinson was beaming ear to ear, while posing for photos with an equally excited lead singer Mike Score and his A Flock of Seagulls band-mates. [See attached photos.] A self-described "eternal club kid," Robinson has evolved his craft throughout the years working on music projects with the likes of Melba Moore, Carol Jiani, various nightclub and street vocalists, and now the legendary 80's band: A Flock of Seagulls. Multi-talented is an understatement when speaking about Robinson. Not only an internationally recognized poet and songwriter, Jimmy D Robinson has been deemed by the Wikipedia Foundation as one of the top "American art dealers" of our time.
Mind Juice Records will be releasing dance remixes of "In the Garden" this coming month with accompanying club and radio promotions in the U.S and Europe. Look for phenomenal remixes from Mauro Mozart, Danny Mart and Roger Grey. "PEDRO" remixes are currently being discussed and considered for release in early 2017.
Jimmy D Robinson and A Flock of Seagulls' music is currently available on iTunes.
Follow Jimmy D Robinson on Twitter: @jimmydrobinson.
Keep with with Jimmy on Facebook.
Preview Jimmy's music on SoundCloud.