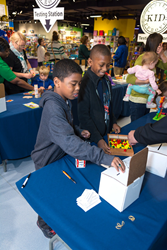 Knowing what kids like at various ages helps parents and grandparents choose the perfect gift.
Indianapolis, IN (PRWEB) December 10, 2016
Parents and grandparents are always looking for the perfect gift for kids who are special in their lives. But it can be frustrating trying to figure out where to start. The Children's Museum of Indianapolis found a way to make it easier by asking kid experts to lend a helping hand.
The museum hosted its 18th annual "Kid-Tested, Kid-Approved" event in which young people play with a bunch of toys that were pre-selected by educators who chose 32 of 2016's hottest holiday toys for kids to test and judge. Buttons were pushed, levers pulled, and toys were handled with joy. In the end, youngsters were asked to judge which of the 2016 toys they like the best and the results are in.
Here are the Top Ten Toys for Kid-Tested, Kid-Approved in order of most votes:

1. Mad Mattr Doh - Molding dough that never dries out; enhances fine motor skills, imaginative and sensory play (ages 3+)
2. String Thing - Transforms string into magical moving rainbow; generates wave patterns and interactive shapes that defy gravity (ages 8+)
3. Pop 'N Catch - Click the cup holder to launch the ball for your partner to catch; encourages outdoor physical activity (ages 3+)
4. VEX Robotics Catapult – Machine that stores kinetic energy to launch projectiles at varying distances-some over 10 feet (ages 8+)
5. Flamingo Marionette – It dances, walks, hops and encourages imaginative play (ages 3+)
6. Robot Mouse – Learn to program, code, and problem solve with this puzzle (ages 5+)
7. Laser Tops – Winding toy that uses balance and centrifical force (ages 4+)
8. Liquid Color Tiles - Liquid encased tiles demonstrate art in movement; physical activity encouraged through dance and jumping (all ages)
9. Design & Drill Flower Power – Engineering and art principles used to construct a flower garden (ages 3+)
10. Tegu Magnetic Blocks – Teaches the basic principles of magnets; ignites imagination (ages 3+)
"Our award-winning store offers a wide range of engaging and educational toys that encourage creativity and help youngsters at various developmental stages," said Dr. Jeffrey H. Patchen, president and CEO, The Children's Museum of Indianapolis. "We are hoping this list, as voted on by children themselves, will help parents discover what most interests their child. Then our holiday helpers in the store can help you pick out the perfect present geared toward a wide variety of ages."
To see the full list of toys tested by kids and available for purchase, please visit http://www.childrensmuseum.org/blog/kid-tested-2016 (Media, please feel free to use a pre-produced infographic of the top ten winners at the bottom of this link).
Museum memberships also make a great family or grandparent holiday purchase or stocking stuffer. Memberships may be purchased at the museum, online, or by calling (317) 334-4000. Store hours are from 10 a.m. to 5:30 p.m. Tuesdays through Sundays. The store will be open until 2 p.m. on Dec. 24 to make those last minute holiday purchases.
About The Children's Museum of Indianapolis
The Children's Museum of Indianapolis is a nonprofit institution committed to creating extraordinary learning experiences across the arts, sciences, and humanities that have the power to transform the lives of children and families. For more information about The Children's Museum, visit http://www.childrensmuseum.org, follow us on Twitter @TCMIndy, Facebook.com/childrensmuseum and YouTube.com/IndyTCM