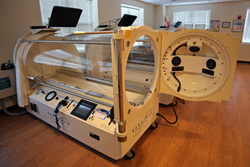 This accreditation demonstrates Florida Hospital Tampa Wound Healing Institute's commitment to providing our community with the highest quality, compassionate patient care
Tampa, FL (PRWEB) December 08, 2016
The Florida Hospital Tampa Wound Healing Institute has been awarded accreditation with distinction by the Undersea and Hyperbaric Medical Society (UHMS), the leading authority in hyperbaric medicine. This accreditation identifies the Institute as providing patients with advanced care and patient safety. Only a few hospitals and facilities have earned this distinction. This is the second time the Florida Hospital Tampa Wound Healing Institute has received this prestigious accreditation.
The super oxygenation offered by hyperbaric treatments can help heal those with wounds caused by diabetes, poor circulation, traumatic injury, radiation therapy and other causes commonly identified as chronic non-healing wounds.
In order to receive the UHMS accreditation, the Institute underwent an inspection by expert evaluators. The accreditation process involved an in-depth look at the Institute's commitment to staffing and training, equipment installation, operation, maintenance, facility and patient safety and standards of care. More than 1,600 individual standards had to be successfully met to receive accreditation.
"This accreditation demonstrates Florida Hospital Tampa Wound Healing Institute's commitment to providing our community with the highest quality, compassionate patient care," said Dr. Xavier F. Cannella, Medical Director of the Florida Hospital Tampa Wound Healing Institute. "Our team members have worked very hard to accomplish this goal and we are very pleased to announce this achievement."
For more information or to schedule an appointment at the Florida Hospital Tampa Wound Healing Institute, please call (813) 615-7161.
About UHMS
The Undersea and Hyperbaric Medical Society (UHMS) was formed in 1967. It is an international nonprofit association serving some 2,000 physicians, scientist, associates and nurses from more than 50 countries in the fields of hyperbaric and dive medicine. The UHMS is an important source of scientific and medical information pertaining to hyperbaric medicine involving hyperbaric oxygen and diving through its bimonthly, peer-reviewed journal. Undersea and Hyperbaric Medicine, symposium, workshops, books and other publications. It organizes an annual scientific meeting at different U.S. and international locations to permit review of the latest in research and treatment and to promote the highest standards of practice. For more information about the UHMS and why accreditation is important visit http://uhms.org.
About the Wound Healing Institute at Florida Hospital Tampa
The Florida Hospital Tampa Wound Healing Institute brings together a team of physicians, nurses and certifies technologist to provide individualized treatment plans and comprehensive therapies to treat problematic or chronic wounds. Hyperbaric oxygen therapy treatment allows the body's natural wound-healing mechanisms, which are oxygen dependent, to function more efficiently. The Wound Healing Institute provides a multidisciplinary approach to chronic wound care that creates the best possible outcomes for patients. Approximately 92% of all wounds treated in our center are healed within just 16 weeks. We are located at 3000 Medical Park Drive, Ste. 430 Tampa, Fl. 33613. For more information about the Florida Hospital Wound Healing Institute, visit http://www.FHTampa.org or call (813) 615-7161.
About Florida Hospital Tampa
Florida Hospital Tampa is a not-for-profit 527-bed tertiary hospital specializing in Digestive Health, Cardiovascular Medicine, Neuroscience, Orthopedics, Women's Services, Pediatrics, Oncology, Endocrinology, Bariatrics, Wound Healing, Sleep Medicine and General Surgery, including minimally invasive and robotic-assisted procedures. Also located at Florida Hospital Tampa is the renowned Florida Hospital Pepin Heart Institute, a recognized leader in cardiovascular disease prevention, diagnosis, treatment and leading-edge research. The recent addition of the Doc1st ER shows that Florida Hospital Tampa is committed to providing compassionate and quality healthcare. Part of the Adventist Health System, Florida Hospital is a leading health network comprised of 26 hospitals throughout the state. For more information, visit http://www.FHTampa.org.