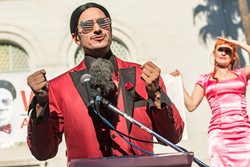 I believe that we are stronger when we work together. We are happier when we practice compassion. And we are at our absolute best when our actions are guided by love
Los Angeles, CA (PRWEB) December 09, 2016
Mayoral candidate Paul E. Amori filed his nominating signatures on Wednesday and was notified by the city's election division yesterday that he has qualified to be on the ballot for the L.A. mayoral race in 2017. Amori is the founder of the Love Party and intends to create a new political paradigm by bringing love into the conversation of politics and putting it into action to solve real world problems. He launched his campaign last month with a rally and "Love parade" attended by many of his colorful supporters on the steps of City Hall in which he shared his plans for a political model that uses love to solve municipal issues. (Video/Images)
 
"I believe that we are stronger when we work together. We are happier when we practice compassion. And we are at our absolute best when our actions are guided by love," said Amori. "That is why today more than ever we need to practice "Heart First Politics" - Politics that spread the love rather than smearing it and answer animosity and hatred with compassion and respect."
Over the last few weeks the Vote 4 Love campaign has been canvasing the city collecting the 1000 signatures needed to put Amori on the ballot. The canvassing was done in districts all across L.A. from Downtown and the East Side, to the Valley and West Side and relied exclusively on volunteers with Amori himself collecting a large portion of the signatures.
"It was an amazing opportunity to get out there and talk with people about the issues that concern them most and to discuss how we can find loving solutions together. I found that people are tired of the anger and the fear that we saw running rampant in the presidential election and hungry for a new type of politics. The Vote 4 Love campaign is a call to action; we hope to inspire people not just to vote, but to get involved," said Amori.
Amori summarizes the key points of his platform as:

We embrace love and the creation of more love as the best possible tool for affecting change that benefits all people, across party, socioeconomic and ethnic lines. Our campaign will determine how we can use love to create solutions for many of the issues Angelenos care about most such as: homelessness, traffic, the rising cost of living, and an escalating crime rate.
The Vote 4 Love campaign is committed to dramatically raising the bar on voter turnout. Less than 20% of registered voters are expected to turn out for LA's 2017 mayoral election, we believe that the citizens of our city do not feel heard or empowered, in turn they don't feel connected to the politicians who are supposed to be representing them. We want to engage voters by getting them involved in policy creation effectively creating crowd-sourced governance.
Amori concluded his rally with these words, "We need politics that serve our cities and politicians that serve our people. It's time to stop voting for anger, for hatred, for division. It's time to Vote 4 Love!"
 
About Paul E. Amori
Paul E. Amori and the Vote 4 Love campaign are putting the heart back into politics by creating a new political model that does away with vitriolic smear tactics and examines the issues and solutions thru the rose-colored glasses of love. The campaign also seeks to re engage disenfranchised voters, the vast majority of registered voters in Los Angeles (more than 80%), who are not expected to turn out for the 2017 Mayoral election, calling for Angelenos to not just Vote 4 Love, but to Love their Vote! If you're tired of the same old politics, it's time for some Paul-E-Tics! 
More information: Vote4Love.com