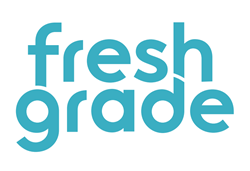 Working together with leaders in education across the United States through the League offers us the opportunity to make a positive impact for more students, teachers, and parents
Kelowna, British Columbia (PRWEB) December 12, 2016
FreshGrade announced today that they have agreed to join Digital Promise as a new Corporate Partner, specifically supporting the organization's League of Innovative Schools. The move comes on the heels of FreshGrade sending representatives to the League of Innovative Schools Fall 2016 meeting in Baltimore in November.
FreshGrade was recently recognized with a Companies-to-Watch Award that honors early-stage Canadian technology companies in business as part of the Deloitte's Technology Fast 50™ Awards. They were also named Ed Tech Business Leader of the Year at the 7th Annual Canadian Ed Tech Leadership Summit. The company is looking to find strategic partnerships in the US to expand its North American footprint, and team leaders were impressed with the League of Innovative Schools.
"When we learned about the innovative ways that League of Innovative Schools districts were changing the game in education we knew it was something we wanted to be a part of," said FreshGrade COO and President, Chris Besse. "Working with the League was an incredible way for us to connect with leaders in educational innovation, research, and community building."
The partnership looks to be a winning combination for both organizations. Building relationships with developers and entrepreneurs is core to Digital Promise's work. Their Corporate Partner Program aims to create mutually beneficial relationships between corporate partners, and Digital Promise's staff and network. The organization, which was created with the mission to accelerate innovation in education to improve opportunities to learn, engages with corporate partners as thought leaders, co-designers, and problem solvers working alongside their education leaders and researchers.
"Looking forward, working together with leaders in education across the United States through the League offers us the opportunity to make a positive impact for more students, teachers, and parents," said Besse. "We look forward to working closely with the League, and its members to move education forward in schools across the United States."
About FreshGrade - FreshGrade develops solutions that enable educators, empower students, and engage parents in the evolution of education by allowing real-time demonstration of student learning to increase student engagement and success. FreshGrade is now available to school districts in the US nationwide. For information, visit http://www.freshgrade.com, email info(at)freshgrade(dot)com, or phone +1 -877-957-7757.
About Digital Promise - Digital Promise is a nonprofit organization authorized by Congress to spur innovation in education to improve the opportunity to learn for all Americans. Through its work with educators, entrepreneurs, researchers, and leading thinkers, Digital Promise supports a comprehensive agenda to benefit lifelong learning and provide Americans with the knowledge and skills needed to compete in the global economy. For more information, visit the Digital Promise website and follow @digitalpromise for updates.