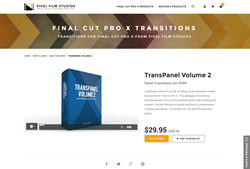 TransPanel Volume 2 is a package of fading panel transitions that allows FCPX editors to create dozens of unique animations
Aliso Viejo, California (PRWEB) December 10, 2016
"TransPanel Volume 2 is a package of fading panel transitions that allows FCPX editors to create dozens of unique animations," said Christina Austin - CEO of Pixel Film Studios.
TransPanel Volume 2 is a set of fading panel transitions created exclusively for use within FCPX. This set of versatile transitions features presets with up to 4 panels with complementary line animations. Choose from horizontal, vertical, and angled panel effects with these simple transitions.
With line controls, video editors can change the color, direction, width, and blend mode of the complementary lines. Choose the add, overlay, or soft light blend mode for a more composited look. With desaturation controls, editors can add a subtle filter effect to the panels right before the fade in completely.
TransPanel Volume 2 features intuitive panel animation controls that can be found in the inspector window. Alter the X parameter to change the horizontal start position of each individual panel. Alter the Y parameter to change the vertical start position of each individual panel. Increasing the Z parameter will create a scaling effect.
TransPanel Vol. 2 is a simple way to achieve simple and seamless transition in Final Cut Pro X. Easily go from one scene to the next without having to set a single keyframe.
Established in 2006, Aliso Viejo, California-based Pixel Film Studios is an innovative developer of visual effects tools for the post-production and broadcast community. Their products are integrated with popular non-linear editing and compositing products from Apple FCPX. Apple, the Apple logo, Mac OS X, and Macintosh are registered trademarks of Apple Inc. in the U.S. and/or other countries. All other trademarks and trade names are the property of their respective owners.