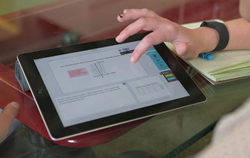 It's especially encouraging to see students change their perceptions about math after they experience TTM for them selves. We are delighted by the positive findings of Utah's STEM Action Center.
Provo, UT (PRWEB) December 13, 2016
A cross-sectional study by Utah State University has revealed that students who use Think Through Math (TTM), the award-winning web-based instruction system from Imagine Learning, are over three times more likely to achieve proficiency on Utah's SAGE (Student Assessment of Growth and Excellence) exam than non-TTM students.
Conducted by the USU Department of Psychology, the study evaluated nine computerized, interactive instructional programs within the state's STEM Action Center Grant Program. Specifically, the study used a combination of quantitative and qualitative methods and included these key findings:

Students who used Think Through Math with high fidelity (e.g., at the recommended usage level of five or more lessons per month) were 3.1 times more likely to achieve SAGE proficiency versus students who did not use TTM.
Students participating at the recommended usage level also were 2.4 times more likely to achieve SAGE proficiency versus low-fidelity students who used the program less than the recommended level.
"We are delighted by the positive findings of Utah's STEM Action Center," said Louis Piconi, founder of Think Through Math. "Findings like these also reinforce our commitment to continually improving the program in ways that benefit both teachers and students. Just knowing that Think Through Math is having a significant impact on SAGE scores is a testament to our program's efficacy."
In addition to the key points mentioned above, the USU study also surveyed teachers and students both at the beginning and end of the 2015–2016 school year. Teachers reported consistently using TTM data and reporting features. The most prevalent forms of use were monitoring student progress (61%), monitoring class progress (58%), and informing students of their progress (49%).
As part of the student survey, high school students offered their thoughts on math difficulty. Prior to using Think Through Math, 32% of survey respondents rated mathematics as "hard or very hard." Following the study, only 16% of TTM students reported the same opinion.
"It's especially encouraging to see students change their perceptions about math after they experience TTM for themselves and recognize that they can grasp math concepts and feel engaged in the learning process," said Carter Durham, Director of Student Experience at Imagine Learning. "Our products all have unique features that build a growth mindset and love of learning. We know those things contributed to TTM's positive impact both in Utah schools and in classrooms across the U.S."
As an important part of the statewide STEM initiative, the STEM Action Center Grant enabled Utah schools to select Think Through Math as a supplemental math instructional system. Currently, more than 20,000 students in 88 Utah schools use TTM. In the 2015–2016 school year alone, Utah students completed over 900,000 lessons and solved over 26 million math problems using TTM.
For more research findings and study methodology, read the STEM Action Center's full report.
About Imagine Learning and Think Through Math
Imagine Learning delivers award-winning language, literacy, and mathematics solutions for K–12 students, revolutionizing the way kids learn reading and math. Students and teachers love Imagine Learning, Imagine Learning Español, Big Brainz math-fact fluency, and Think Through Math products because they are research based, data driven, instructionally differentiated, and incredibly fun to use. The Imagine Learning family is dedicated to changing lives and opening doors of opportunity for kids.
Think Through Math, a leader in education technology innovation, is transforming math education in schools throughout the United States. Designed for grades 3 and above, Think Through Math is the only software system that integrates state-certified teachers who tutor struggling students live for greater math understanding. During that process, TTM ignites curiosity about math and helps students learn how to think mathematically.
As the newest member of the Imagine Learning family, Think Through Math uses adaptive learning technology to address the learning needs of all students, including students working at grade level, English Language Learners (ELLs), those with advanced math aptitude, and students with learning disabilities.
For more information, please visit http://www.imaginelearning.com and http://www.thinkthroughmath.com.