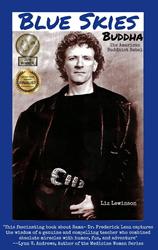 Times of darkness are also the greatest opportunity for transition and change.
San Antonio, TX (PRWEB) December 14, 2016
Mystic Buddha Publishing House today announced the holiday solution to the Trump blues: a life-inspiring book, Blue Skies Buddha, award-winning biography of the American Buddhist prodigy Rama – Dr. Frederick Lenz.
Says Roger Cantu, Editor in Chief of Mystic Buddha, "This time in history highlights the importance of getting back to core truth and values. These values include the innate power of women, the importance of meditation, the reality of amazing states of awareness and enlightenment, and the knowledge of how to lead a balanced, self-giving and happy life in any time or civilization -- all integrated into one stunning biography."
Blue Skies Buddha tells the true story of a rebellious American teen who encounters an old monk during a visit to Nepal. The teen is told that the far-reaching teachings of an ancient Tibetan Buddhist order are in his hands, and it is his job to revive, hone and share them to aid millions of people. Frederick Lenz returns home to Connecticut and embarks on a prodigy's journey that proves wilder, faster and more arduous than he could ever have imagined.
"Times of darkness are also the greatest opportunity for transition and change," says author Liz Lewinson, "The best way to overcome oppression is to bring your own being into light. Each person has the power to raise the consciousness of the United States and the planet by bringing more luminosity into their own life. That is the 21st century teaching process described in Blue Skies Buddha."
Sample reviews:
"This fascinating book captures the wisdom of a genuine and compelling teacher who combined absolute miracles with humor, fun and adventure." – Lynn V. Andrews, author of the Medicine Woman Series
"Born Frederick P. Lenz, this elusive young man leaps off the pages of Liz Lewinson's book, showing that magic and enlightenment are available to everyone, right here, right now." -- Judith Simmer-Brown, Professor of Religious Studies, Naropa University
"Blue Skies Buddha will take you back to your first moments of bliss in pursuit of higher consciousness. Remember, and smile. Remember, and renew your passion for the present moment of power." -- Rev. Linda Martella-Whitsett, Unity Church of San Antonio
"Through interviews, quotes, and personal experiences, Liz Lewinson takes you on an epic journey, a hero's adventure of wonder, impossible odds, self-discovery, and like many great tales, full of love." -- Rev. Mary-Rose Engle, Interfaith Minister
Blue Skies Buddha won the 2016 Eric Hoffer award for literary excellence and was selected as a Finalist by USA Book News Best Books of 2015 in the Biography category. It has achieved #1 bestseller status on Amazon Kindle.
Blue Skies Buddha is currently available on Amazon and bookstores worldwide.
For further information on Blue Skies Buddha contact info(at)mysticbuddha(dot)com or visit http://www.blueskiesbuddha.com.