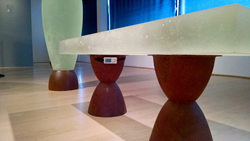 Bourne, MA (PRWEB) December 13, 2016
Onset, a world leader in data loggers, has published a case study on how the Hunter Museum of American Art uses Onset HOBO® MX1101 data loggers to maintain optimal climate conditions in its galleries. The Bluetooth Low Energy (BLE) enabled data loggers continuously measure and record temperature and relative humidity (RH) levels, providing the real-time and historical data needed to protect exhibits.
Located in Chattanooga, TN, the Hunter Museum of American Art features an extensive and diverse collection of American art created with a variety of different materials, including paintings, sculpture, photography, mixed media, furniture, works on paper, and contemporary studio glass. To preserve this artwork, the museum needs to maintain a stable interior climate for each of its three buildings, closely controlling temperature, relative humidity and other unfavorable environmental conditions to prevent harm or the deterioration of objects.
The Onset case study examines how the museum's registrars replaced traditional environmental loggers with Onset's BLE data loggers to eliminate the time and costs associated with manually collecting data. It also discusses how registrars can easily download temperature and RH data wirelessly from the Bluetooth-enabled loggers—located up to 100 feet away—on their smartphones or tablets using Onset's accompanying HOBOmobile® app.
Streamlined data collection and reporting
"The museum is comprised of three different buildings, all interconnected and each with its own climate-control needs," said Elizabeth Le, registrar at the Hunter Museum of American Art. "The Bluetooth data loggers and mobile app make access to the data very straightforward and convenient. I can retrieve the data I need instantly from each HOBO location using my iPad."
"We have to keep every data record and monitor any extreme changes. If there's a paper buckle or a ripple, we can narrow down the cause with the assistance of the HOBO," said Theresa Slowikowski, registrar at the Hunter Museum of American Art. "The HOBOs are such an advancement and an important tool for us."
To view the full case study, visit http://www.onsetcomp.com/learning/application_stories/museum-ensures-stable-environment-bluetooth-temp-loggers.
About the Hunter Museum of American Art
The Hunter Museum of American Art in Chattanooga, Tennessee is a 77,000-square-foot facility perched on an 80-foot bluff overlooking the beautiful Tennessee River. Established in 1952, the museum features an extensive collection of American art from the Colonial period to the present. The museum complex is comprised of three unique yet interconnected structures built in 1905, 1973, and 2005, representing 100 years of architecture. Each building reflects the tastes and technology of the time in which it was created. To learn more, please visit http://www.huntermuseum.org.
About Onset
Onset is a leading supplier of data loggers and monitoring solutions used to measure, record, and manage data for improving the environment and preserving the quality of temperature-sensitive products. Based on Cape Cod, Massachusetts, Onset has been designing and manufacturing its products on site since the company's founding in 1981. Visit Onset on the web at http://www.onsetcomp.com.
###
CONTACT
Onset Media Relations
508-743-3181
http://www.onsetcomp.com
media(at)onsetcomp(dot)com