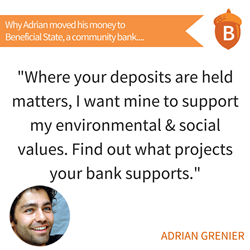 Oakland, CA (PRWEB) December 12, 2016
Adrian Grenier, actor, clean energy advocate, a prominent actor from Entourage and founder of Lonely Whale Foundation announced today at the DivestInvest Culture event, that he is moving his business and personal finances to a values-based community bank and Certified B Corporation -- Beneficial State Bank (Beneficial State). Co-founded by Tom Steyer and Kat Taylor, Beneficial State's clean energy lending projects to date have prevented carbon emissions equivalent to 43,406 passenger cars off the road for one year, or 169,000 acres of U.S. forests storing carbon for one year.
"After researching the impact banks can have on the environment, I decided that divesting my investments wasn't enough, where my deposits are held is extremely important as well. After learning more about Tom's bank and it's commitment to environmental sustainability and social justice outcomes, I knew it was the best fit for me as a clean energy advocate. They've never invested in dirty energy and work hard to fund renewable energy enterprises. That is what I want my deposits to support. And, I challenge others to look at their financial institutions and find out if their deposits are funding projects that destroy our environment.," Adrian commented.
Tom Steyer, Beneficial State Bank co-founder and Chairman, and NextGen founder said, "We believe that banks should nourish their communities, not extract from them. That is why we work hard to transparently share our lending practices. We believe that banks can be profitable while balancing social justice outcomes and environmental sustainability. We are appreciative that Adrian is putting his money where his heart is, and accompanying us on this journey."
Beneficial State maintains that collectively, banks and investors have immense power to direct energy production. People can choose to fund clean, renewable energy and refuse to fund extractive and dirty energy sources like coal, oil, and gas. Beneficial State supports a renewable energy future and — through organizations like B Corporation, Global Alliance for Banking on Values and pledges like the Paris Pledge to Quit Coal — they are part of a movement to work with others to do the same.
"We started in 2007 to foster an economy that is fully inclusive, racially and gender just, and environmentally restorative. Those ideals resonate deeply with Adrian and we are thrilled to partner with him in this capacity," added Kat Taylor, Beneficial State Bank Co-CEO and Co-founder.
Beneficial State created its impact website to evidence its commitment to radical transparency and vigorous measurement, which it believes is a key step in changing the banking system for good. Learn more at beneficialstate.org/impact.
# # #
About Beneficial State Bank
Beneficial State Bank is a social enterprise bank founded in 2007 with a triple-bottom-line focus of social justice, environmental resilience, and economic sustainability. Beneficial State is a state-chartered, federally regulated, for-profit banking organization whose economic interest is owned entirely by a non-profit foundation of the same name. Beneficial State is mandated to produce meaningful social justice and environmental benefits in an economically sustainable manner. In December 2010, it acquired ShoreBank Pacific. The merger greatly expanded the Bank's reach on the West Coast and enhanced its capacity to serve its mission. ShoreBank Pacific, a pioneer of environmentally sustainable banking, served both Washington and Oregon. The joint forces produced an enlarged footprint covering a bio-regional territory some call the Salmon Nation and united the synergies of social justice and ecological banking. A few years later in October 2013, Beneficial State Bancorp completed a stock purchase transaction of 90% of Albina Community Bank, bringing a Portland-based community bank that has been investing in individuals, families, businesses, and local neighborhoods for over 20 years, into their family. In June of 2016, Beneficial State Bank acquired Pan American Bank. The combined 12-branch network now serves the California communities of Oakland, Santa Rosa, Sacramento, Los Angeles, Bakersfield, Fresno, Porterville, Visalia, Modesto and additionally Portland, Oregon, and Seattle, Washington.
Beneficial State, a community development financial institution, has been a certified B Corporation since 2013 and has been honored as "Best for the World," a designation reserved for the top 10% of all B Corps based on environmental, community and worker impact. Overall, Beneficial State is the #3 B Corp worldwide on the B Corp impact assessment. For additional information, visit http://www.beneficialstate.com.