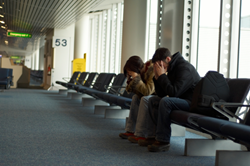 Glastonbury, CT (PRWEB) December 13, 2016
The winter season is upon us, and each year winter storms cause thousands of travelers to endure flight cancellations, delays, lost luggage, and more. Unfortunately, winter storms are not generally predictable more than a week ahead of time, which is why travelers need to plan ahead to avoid getting stuck in an airport, or missing a trip altogether. Travel Insured International, a leading travel protection provider, wanted to answer a few questions that many travelers may have about how travel protection could impact their winter vacation plans.
When can I purchase travel protection for a winter storm?
We suggest purchasing a protection plan when you first book your trip. To receive coverage, the plan must include coverage due to inclement weather and must be purchased at least 24 hours prior to when the winter storm is officially named.
What if my flight is cancelled?
The Trip Cancellation benefit can provide reimbursement up to 100% of your full trip cost when you are forced to cancel for a covered reason. If a storm causes complete stoppage of your carrier for at least 24 hours, reimbursement may be provided.
What if my flight is delayed?
The Trip Delay benefit can reimburse you for unused pre-paid expenses for reasonable accommodations when you are delayed for six or more hours, until you are able to take off.
Can I cancel my trip if I'm worried about a storm?
Unfortunately, fear is not a covered reason for trip cancellation. However, purchasing a plan with Cancel for Any Reason* would allow you to cancel if you no longer wanted to travel and did so at least 48 hours prior to your scheduled departure.
How will my travel protection plan help me?
By purchasing a plan that includes the Trip Cancellation or Trip Interruption benefits, you can receive up to 100% of your pre-paid trip cost if your trip is cancelled, and up to 150% if your trip is interrupted.
How can I be prepared to file a claim?
We recommend to print an extra copy of your travel vouchers, receipts, and confirmations in case you need to file a claim. It is also important to read the plan details so you know what's covered in the plan you purchased. If you trip is in fact disrupted, be sure to save proof from your airline carrier that your trip is delayed or cancelled due to bad weather. Lastly, keep a copy of your plan with you and have Travel Insured's assistance and 24-7 non-insurance number written down and saved for easy access.
Visit http://www.travelinsured.com or call 1-800-243-3174 for more information on the plans provided.
About Travel Insured:
Founded in 1994 by Peter Gehris, Travel Insured International is one of the leading travel insurance providers, offering the highest quality worldwide travel protection for over 20 years. Travel Insured maintains relationships with specialty travel providers and tour operators, as well as provides 24/7 customer assistance, every day of the year. In 2015, Travel Insured was acquired by Crum & Forster, whose parent company is Fairfax Financial Holdings Ltd. The financial strength and core values of the companies give Travel Insured the best position in the market to continue its commitment of helping travelers protect their travel plans to travel relaxed, travel secure, and travel insured.
The plans contain insurance benefits underwritten by the United States Fire Insurance Company. C&F and Crum & Forster are registered trademarks of United States Fire Insurance Company. The Crum & Forster group of companies is rated A (Excellent) by AM Best Company 2016. The plans also contains non-insurance Travel Assistance Services that are provided by an independent organization, and not by United States Fire Insurance Company or Travel Insured International. Coverages may vary and not all coverage is available in all jurisdictions.
*Cancel for Any Reason Benefit is a benefit within the Worldwide Trip Protector Plus plan and can provide a reimbursement up to 75% of prepaid, non-refundable trip costs if cancelled 48 hours or longer before scheduled departure. The plan must be purchased within 21 days of initial trip deposit to be eligible for the Cancel for Any Reason Benefit
Travel Insured International
855 Winding Brook Drive
Glastonbury, CT