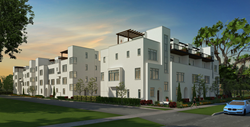 We offer a live-work-play environment for our residents in centrally located, highly sought-after areas
Orlando, FL (PRWEB) December 14, 2016
ICON Residential is in the process of breaking ground on their northern Orlando property Irving on Park. Irving on Park will have twenty-one fee-simple townhomes featuring five floor plan designs ranging from 1,700 square feet to 2,500 square feet including optional bonus rooms.
Irving on Park's modern construction will feature a minimalist design with rooftop terraces, optional elevators in select units, and updated fixtures throughout selected to fit one's style.
High quality manufactured windows, concrete block insulated construction, and two car garages in each unit tie together all features and amenities Irving offers and why Icon homes distinguish themselves from a typical homebuilder. This enduring architecture is inspired by notable architect Irving Gill and embraces New Urbanist design. Becky Carey with Crestview Reality is the exclusive agent selling the homes and the sales office will be located at address 720 E Colonial Drive, Orlando Florida 32803.
Irving is situated along brick-lined streets and across the road from Park Lake, providing convenient walkability to the surrounding area and a short drive from downtown. Enjoy the outdoors at the Orlando Urban Trail or check out the many restaurant options that are a few blocks from one's front door. Oak tree canopies and view of Orlando's city scape provide an ideal urban location while still maintaining a lush oasis and livability within The City Beautiful.
"Our goal is to develop desirable infill locations across the Southeast. We offer a live-work-play environment for our residents in centrally located, highly sought-after areas," said ICON Residential Principal Mike Bednarski, a managing partner with the developer. "This community has been tremendous success, we are getting a lot of buyers that have been craving a moderately priced but luxury housing product centrally located in the Orlando area."
About ICON Residential Development
Founded in Tampa, FL in 2009 by Principals Mike Bednarski, Ryan Studzinski and Peggy Tseung, ICON Residential is a real estate investment and development company, with a strong background in residential real estate investing, construction, brokerage and development.
ICON embraces New Urbanist design principles, such as accessibility to an active urban environment, and promotes the opportunity for a "live, work, play" lifestyle. The company's market approach is tailored to contemporary for-sale housing targeting middle income households and empty nesters in primarily the southeastern United States where it creates innovative and desirable custom solutions for infill, for-sale housing. ICON's portfolio contains a growing collection of boutique urban communities that showcase the company's innovative approach to architecture, design and planning. ICON Residential has offices in Tampa, Atlanta and New York. For more information, please visit http://www.iconresliving.com or email info(at)iconresliving(dot)com.