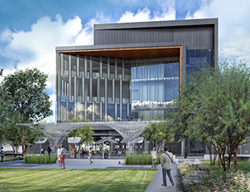 New York, NY (PRWEB) December 14, 2016
CanAm Enterprises (CanAm) is pleased to announce that its 48th EB-5 project – LA BioMed –received I-924 exemplar approval from USCIS on November 15th, 2016.
CanAm's EB-5 loan will finance a new state-of-the-art research and development facility on the Harbor-UCLA Medical Center campus in southern Los Angeles. Founded in 1952, the Los Angeles Biomedical Research Institute (LA BioMed) is one of the country's leading nonprofit biomedical research institutions. Over the years, LA BioMed has operated out of several facilities across the Harbor-UCLA Medical Center campus, some dating as far back as 1943. In order to expand and update its facilities and operations, LA Biomed will move all of its research and support functions into a single modern space located on an integrated, interactive and attractive 11.4-acre site within the Harbor-UCLA Medical Center campus.
The proceeds of the $14.5 million foreign investment that CanAm raised will help construct a new state-of-the-art four-story, 85,000 square-foot research facility, which will allow LA BioMed to promote cutting edge research and collaboration, provide advanced equipment and core facilities, attract promising new and experienced scientists, and build upon its long-standing relationship with Harbor-UCLA Medical Center. Construction of the research facility is expected to begin by the end of the 4th quarter of 2016 and LA Biomed expects to begin occupying the research facility by the 3rd quarter of 2018.
CanAm is dedicated to bringing qualifying EB-5 projects, such as LA BioMed, to investors. Before launching a project to the market, CanAm's project development team selects projects that meet the intent of the EB-5 program, and structure them conservatively knowing that our investors' futures are at stake. CanAm's underwriting team conducts exhaustive due diligence in order to qualify a project as a potential investment. As a third-party Regional Center, CanAm and its employees are committed to the highest level of integrity and transparency demanded by its immigrant investors and the EB-5 Program.
###
About CanAm Enterprises
With three decades of experience promoting immigration-linked investments in the United States and Canada, CanAm has a long and established track record. Based on a reputation of credibility and trust, CanAm has financed more than 53 project loans and raised more than $2.4 billion in EB-5 investments. CanAm exclusively operates seven USCIS-designated Regional Centers that are located in the City of Philadelphia, the Commonwealth of Pennsylvania, the County of Los Angeles, the State of Hawaii, the Metropolitan Region of New York, the State of Florida and the State of Texas.
For more information, please visit http://www.canamenterprises.com