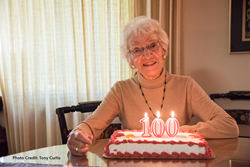 During her more than five decades of literacy work, Colvin has published nine books, and visited or worked in more than sixty countries.
Syracuse, NY (PRWEB) December 14, 2016
"To many people the word "illiteracy" prompts images of downtrodden, starving people in third world countries. But illiteracy in America? How can that be possible? Our tax money provides schooling for every child." These thoughts were expressed by Ruth Johnson Colvin in 1960. But when Colvin saw a 1961 newspaper article on the US Census figures that noted her hometown of Syracuse, New York had over 11,000 people who could not read, she knew something needed to be done. "Not in Africa. In my city. An educational city," Colvin said. "If I don't do something, who will?"
Her life was transformed as she undertook the necessary steps needed to help correct the situation. Colvin determined that traditional classroom methods would not work and instead focused on the development of community networks that empowered adult learners. The organization developed effective tutor training programs to teach basic literacy and English as a second language with an ongoing support system.
Colvin earned support from Syracuse's Church Women United (CWU) organization to sponsor a local literacy tutoring effort. She recruited volunteers and set up an office in her home's basement. Under her leadership, the literacy volunteer movement quickly spread across the United States, and the national organization, Literacy Volunteers of America, Inc., was incorporated in 1972. Ruth and her husband, Robert, also spent more than 50 years traveling the world together to provide literacy training in more than 60 countries at the invitation of ministries, governments and universities.
During her more than five decades of literacy work, Colvin has published nine books, and visited or worked in more than sixty countries. She has been the recipient of nine honorary doctorates, and in 1987 she was given the highest award for volunteerism in the United States, the President's Volunteer Action Award from President Ronald Regan. She received the Presidential Medal of Freedom in 2006 from President George W. Bush, and was inducted into the National Women's Hall of Fame in 1991.
In 2002, Literacy Volunteers of America, Inc. merged with Laubach Literacy International to form ProLiteracy Worldwide. Colvin still serves as a lifetime member of the board of directors of ProLiteracy, is an honorary member of the board of directors of Literacy New York, and a member of the board of directors and a tutor at Literacy Volunteers of Greater Syracuse. At 100 years old she is still very active. "I feel life is a balance, and you've got to balance physical, mental, emotional and spiritual," Colvin says. "I lift weights every morning and people say, 'Isn't it nice you like to exercise?' I say, 'Who said I liked it? I do it because I want the results.' I play 18 holes of golf. And nobody my age even plays nine holes, so I have all these nice young friends."
Colvin saw a problem and used tenacity to work on solving it. She often turned for inspiration to the Chinese adage: "It is better to light one candle than to curse the darkness."
About ProLiteracy
ProLiteracy believes every adult has the right to literacy. ProLiteracy, the largest adult literacy and basic education membership organization in the nation, is committed to creating a world in which all adults can read. ProLiteracy has 1,000 member programs in all 50 states and the District of Columbia and works with 52 nongovernmental organizations in 34 developing countries. For more information about ProLiteracy, please visit http://www.proliteracy.org.