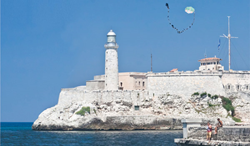 Our aim is to make US travel to Cuba part of the global movement for ethical travel
Oakland, CA (PRWEB) December 14, 2016
The growing number of US visitors to Cuba—a virtual tsunami that has jumped by 80% since the Obama Administration began relaxing travel to the island in 2015—has prompted the creation of RESPECT, an association of 100 US institutions, organizations and travel organizers that arrange Cuba travel.
From January 2015 through June 2016, Cuba received 732,868 visitors from the United States, and commercial flights opened up from major US cities to a number of Cuban airports, including Havana this November.
"The sudden upsurge has put a strain on existing Cuban infrastructure," said Bob Guild, Vice President of Marazul, one of RESPECT's initiators. He noted that the association hopes to make US travelers more aware of the need to protect Cuba's cultural heritage and environment, as well as to support the local economy. "Our aim is to make US travel to Cuba part of the global movement for ethical travel," he noted, "particularly important in supporting Cuba's goal to become a sustainable destination for mutual learning and benefit."
RESPECT's principles have been adopted by travel agencies, environmental, artistic, musical, academic, legal, medical, religious and social justice organizations, as well as sister-city and Cuban-American groups.
"We believe the time has come for a new relationship with Cuba," commented Walter Turner, President of Global Exchange, another initiating RESPECT member, "one that starts with transparency and social responsibility, building trust along the way through respectful exchanges."
The 17 Principles issued by the 65 founding organizations and some 35 individuals commit travelers, among other points, to "respect all Cubans, without regard to skin color, gender, sexual orientation, religion, age, political persuasion, abilities or economic status."
Guild emphasized that the association has chosen this week to announce its founding, "a fitting way to commemorate the US-Cuba opening begun at this time two years ago on December 17th," and said RESPECT is welcoming new institutional and organizational members. Those interested should write to respect(at)respectassociation.org
RESPECT CONTACTS:
Bob Guild, Vice President, Marazul, bguild(at)marazul.com
Gail Reed, Founding Director, MEDICC, gailannreed(at)gmail.com
Walter Turner, President, Global Exchange, waturner(at)igc.org