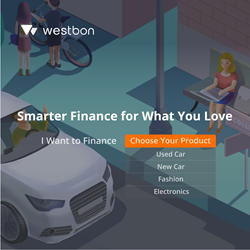 International students have never been given the opportunity to prove their credit worthiness under the current credit system.
Chicago, IL (PRWEB) December 16, 2016
Westbon Inc., a Chicago-based online lending platform, is taking a revolutionary approach in the dynamic Fintech industry by providing auto and personal loans to international students in the U.S. who have no or thin credit history. This is definitely an exciting news for international students who have long been denied of access to American credit system due to their lack of Social Security Number (SSN) and credit score.
Hao Liu, co-founder of the company, believes that the rapid rise of Fintech industry is a natural outcome of the growing unfulfilled demand of the underbanked or unbanked. "Unlike subprime borrowers, International students have never been given the opportunity to prove their credit worthiness under the current credit system and hence are severely disadvantaged. Our mission is not only to provide them with convenient financing options at affordable rate, but also to help them build credit history at an early stage."
International students have been labelled as the "spoilt rich kids" by many Americans due to the extravagance of a small group of wealthy ones, but the financing needs of the majority of this group is overlooked. The annual cost including tuition and living expense for an international student to pursue a tertiary education degree in the U.S. typically ranges from $30,000 to $50,000. This is still a significant financial burden for most families in China, where the average annual income is slightly below $9,000, and for those from India, where many families send their children to study overseas by taking loans from domestic banks. They are also experiencing various daily inconveniences because of their credit dilemma: constant denial of credit card application, mandatory deposit for renting apartment, ridiculously high interest in car loan and lease, etc.
Westbon aims to change such situation by providing customized loan products at a rate international students deserve. Leveraging innovative underwriting process, the company goes beyond conventional criteria like credit score and takes applicant's academic and financial status into consideration. It also eliminates all hidden fees like origination charge or prepayment penalty, so that students can enjoy a highly transparent and flexible loan service. More importantly, international students can now start building their credit history by making on-time monthly payment even without SSN. This is a revolutionary change and will benefit them in the long run by saving them significant amount of money in their future car loan and mortgage. For international students, the era of "no SSN, no credit" has come to the end.
About Westbon Inc.
Founded in 2015, Westbon is the first online financing platform that provides international students in the U.S. with affordable financing solutions without having Social Security Number or credit history. Westbon's auto loan service is now available in 28 states, and its personal loan service is offered in 8 states. It is dedicated to connecting the underserved international students to the U.S. credit system and helping them build credit history at an early stage by reporting on-time payment to major credit bureaus like Experian.