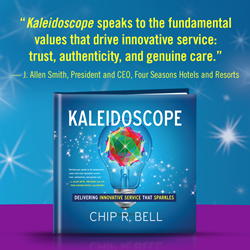 Innovative service comes from your core, or your heart. It evokes an experience of genuineness, a sense that its source is deep, not superficial.
Lambertville, MI (PRWEB) February 01, 2017
'Tis the season of love. But are businesses showing customers their true heart? Or are they just going through the motions?
In the latest book of his bestselling series, customer service guru Chip Bell reveals how to offer service that makes customers swoon and become zealous advocates. He shares the secrets of what it takes to evoke these feelings of affection inside customers, and how to inspire employees to provide this kind of innovative service.
"Kaleidoscope: Delivering Innovative Service That Sparkles," released by Greenleaf Book Group, will be available Valentine's Day on Amazon and at all major booksellers. It follows "The 9½ Principles of Innovative Service" (Simple Truths, 2012) and "Sprinkles: Creating Awesome Experiences Through Innovative Service" (Greenleaf Book Group, 2014).
This latest book compares innovative service to a kaleidoscope which, like innovative service, provides wonderful amusement. Rotating the cylinder to deliver new expressions of radiance is guaranteed to evoke "oohs" and "ahhs." But the colorful pieces of glass or gems inside the working end of the kaleidoscope never change. They're the core character of the kaleidoscope's artistic expression.
"Innovative service comes from the core, or the heart," explains Bell. "It evokes an experience of genuineness, a sense that its source is deep, not superficial."
Symbolically speaking, it's homemade versus store-bought—it's the waitress in a Manhattan diner putting a flower arrangement from her wedding anniversary the day before on a diner's table; the auto dealership that puts a rose on the dash of a customer's car after she has had it serviced; or the Disney World housekeeper who tucks stuffed toys into bed while the hotel room's guests are away in the theme park, making it appear as if the toys had magically come alive.
Bell's latest book is about the different shades of colored glass inside the "kaleidoscope" of value-unique service. Each chapter reveals a different shade of its charisma and depth. Throughout the book, Bell offers real-life examples of this service along with fifty action items to turn the philosophy into practice—and results.
"Kaleidoscope" shares how business owners and professionals can and should:

Show grace and honor their customers,
Be trusting and keep their promises,
Be generous to serve it forward,
Tell the truth and nurture candor,
Show mercy and let it go,
Build a partnership with customers,
Make the customer experience easy and headache-free, and
Show their passion.
"Kaleidoscope" has already received rave reviews:
"'Kaleidoscope' speaks to the fundamental values that drive innovative service: trust, authenticity, and genuine care. Weaving together colorful anecdotes and firsthand experiences from across disparate industries, Chip reveals a common truth: At the heart of innovative service lives true passion—the key to creating memorable experiences and building customer loyalty." —J. Allen Smith, president and CEO, Four Seasons Hotels and Resorts
"'Kaleidoscope' provides a stunning virtual lens through which to view Chip Bell's stories and perspectives, which light unique pathways to delivering innovative service that makes customer experiences special. What a fantastic way to inspire me and my colleagues at WestRock to enchant our customers every day." —Steve Voorhees, CEO, WestRock
"Chip Bell has done it again! His powerful message strongly reflected in Kaleidoscope inspired all our general managers and company leaders to always be here for our guests and team members." —Keith A. Cline, president and CEO, La Quinta Inns and Suites
"Chip Bell's 'Kaleidoscope' is packed with powerful illustrative stories that clearly convey timeless principles that are essential to grasp in today's service economy. Compress the learning curve to customer service excellence and learn from a master teacher!" —Dan Cathy, CEO, Chick-fil-A
"Chip Bell's 'Kaleidoscope' is a wise book with delightful stories about how to inspire your customers by keeping them at the center of all you do." —Liz Smith, CEO of Bloomin' Brands (Outback Steakhouse, Bonefish Grill, Carrabba's Italian Grill, and Fleming's Prime Steakhouse)
"Chip Bell provides a crystal-clear, concrete way to heighten customer advocacy and therefore retention. The secret to the advice in this book is to be of service and not simply serve." —Carla Harris, vice chair and managing director, Morgan Stanley
More information about Chip Bell can be found at http://www.chipbell.com.
Kaleidoscope
By Chip Bell
Greenleaf Book Free Press
February 2017
120 pages
Hardback, $15.95
ISBN-10: 1626343942
ISBN-13: 978-1626343948
About Chip Bell
Chip R. Bell is a renowned keynote speaker and the author of several best-selling books. Global Gurus ranked him both in 2014 and 2015 as the #1 keynote speaker in the world on customer service. He has appeared live on CNN, CNBC, ABC, Fox Business, Network, Bloomberg TV, and NPR; and his work has been featured in the Wall Street Journal, Fortune, Forbes, USA Today, Fast Company, Money Magazine, Inc. Magazine, Entrepreneur Magazine, and Businessweek. His newest book is "Kaleidoscope: Delivering Innovative Service That Sparkles."