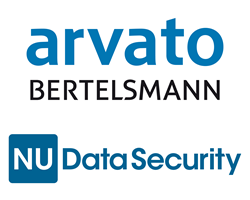 We selected NuData Security as a partner, because together we can successfully provide clients with a comprehensive solution
Vancouver, Canada (PRWEB) December 15, 2016
Arvato Financial Solutions, a leading global financial services provider, today announced an agreement with NuData Security, an award-winning international expert in passive behavioral biometrics, to join forces. The partnership will enable Arvato clients to focus on good customer experience and balance complex fraud mitigation strategies in compliance with local data protection regulation.
To provide a one-stop fraud prevention suite, Arvato Financial Solutions sought a best-in-class partner that would combine cutting-edge technologies with their local market know-how and analytics expertise to combat increasingly complex fraud phenomena along the entire customer journey. As recent winners of the Merchant Risk Council METAwards and CNP Best Antifraud Solution, NuData Security has proven their innovative approach towards fraud prevention. The joint solution will integrate behavioral analytics and passive biometrics with a common platform that will offer joint clients a true understanding of their users, providing a frictionless and enhanced experience for legitimate customers while protecting against abuse.
Arvato Financial Solutions supports technologies that radically innovate fraud detection methods. Arvato clients who want to prevent cybercrime, now have access to an internationally-proven solution, which accurately verifies user identities by their natural and subtle interactions online – behavior that cannot be mimicked or replicated by a third party. These capabilities help to maximize detection, reduce false positives, and optimize user identification.
"Our vision is to provide an innovative, modular and international solution to stop fraud, prevent attacks and continuously verify good users", said Frank Schlein, President Risk Management at Arvato Financial Solutions. "We selected NuData Security as a partner, because together we can successfully provide clients with a comprehensive solution, one that integrates innovative technologies such as device fingerprinting, behavioral analysis, passive biometrics with profound analytical expertise, specific European market insight, and local data protection know-how."
"We are excited to be partnering with Arvato," said Michel Giasson, CEO of NuData Security. "We choose best-in-class partners to join forces with to offer comprehensive solutions that deliver results without disgruntling customers. Fraudulent online behavior sends ripples through organizations and directly impacts the bottom line.
Merchants continue to feel the impact of increased fraud losses, increased volume of successful fraud attempts, a rise in fraud cost per dollar losses, and rising fraud costs as a percent of annual revenues. On average, 648 fraud attempts were recorded by companies each month; nearly a third of those attempts successful. This means that 1.47 percent of their turnover was lost due to fraud.
Over the 2015 holiday season, NuData found a 167% increase in high-risk transactions over the previous year, and new account fraud has increased to 60% of all new accounts in 2016, up from 39% in 2015. The variety and rising speed of fraud phenomena force digital businesses to find effective solutions for these challenges. Technologies such as real-time behavioral analysis and passive biometrics, machine learning, and aggregated data intelligence can help clients in financial institutions/banking, e-commerce, telecommunications, gaming, internet, media, and entertainment to reduce fraud and improve customer experience.
__________________
Arvato Financial Solutions is a global financial service provider and part of Bertelsmann SE & Co. KGaA as a subsidiary of Arvato.
The company has around 7,000 employees in 22 countries, including a strong presence in Europe, America and Asia, and offers flexible full-service solutions for the value-oriented management of customer relationships and cash flows. Arvato Financial Solutions is synonymous with professional outsourcing services (Finance BPO) centering on cash flow in all phases of the customer lifecycle – from risk management and invoicing to debtor management, the sale of receivables and debt collection. As part of this, the company focuses on minimizing default rates in the business initiation phase and during the collection process. As a result, their services also include optimizing the selection of payment types internationally.
As a financial solutions provider, the company manages around 10,000 customers, specializing primarily in the retail/e-commerce, telecommunications, insurance, banking and healthcare sectors. This makes it Europe's third largest integrated financial service provider.
For more information, please visit http://finance.arvato.com
_______________
About NuData
NuData Security predicts and prevents online fraud, protecting businesses from brand damage and financial loss caused by fraudulent or malicious attacks. By analyzing and scoring over 80 billion behaviors per year, NuData Security identifies good users from bad based on their online behavior while flagging suspicious behavioral anomalies for further remediation – all in real-time. NuData Security services some of the largest e-commerce and web properties around the globe.
For more information, please visit http://www.nudatasecurity.com/