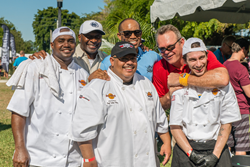 Events like this allow us to give back to the community through great charity organizations.
Fort Lauderdale, FL (PRWEB) December 15, 2016
ChefUniforms.com, a leading manufacturer and distributor of chef clothing and apparel for restaurants and hotels partnered with local food and wine festival, John Offerdahl's Broward Health® Gridiron Grill-Off, that features a Grill-Off competition with football legends and celebrity chefs from across South Florida. As sponsors, ChefUniforms.com supplied 23 chefs with customized, embroidered chef coats and chef totes, hats, and gift cards for the local chefs participating in the event.
This year was the 7th annual Gridiron Grill-Off, held at the Pompano Beach Amphitheater. The event hosts 23 of the top chefs in South Florida from great restaurants in the region along with football players and legends. Attendees spent the day eating and sampling different foods and wines, then voting on their favorite recipes. Hosted and produced by John Offerdahl, the event's overall mission is "feeding the needs of kids in crisis." 4KIDS South Florida and HOPE South Florida are among some of the local charities supported by the Gridiron Grill-Off, there are numerous other charitable partners in the hospitality and sports industries.
"ChefUniforms is honored to sponsor events like this," stated Susan Masimore, CEO of UA Brands. "Not only do events like this allow us to get out in the community, they allow us to give back to the community through great charity organizations."
ChefUniforms.com, together with sister company, UA Corporate Solutions gave more than $10,000 to the Gridiron Grill-Off including in-kind and monetary donations to support the charity.
About ChefUniforms.com
ChefUniforms.com has represented style, quality and, above all, customer satisfaction for more than a decade. ChefUniforms is one of the divisions of UA Brands and they manufacture and distribute high quality culinary apparel both nationally and internationally. They remain determined in their mission to provide a huge selection of chef apparel with excellent customer service and high-quality products at the best prices. The company's corporate office is based in Fort Lauderdale, Florida with a distribution center near Atlanta, Georgia. For more information, visit, http://www.chefuniforms.com/.
About Uniform Advantage Corporate Solutions
Uniform Advantage Corporate Solutions, brings together Uniform Advantage, Chef Uniforms, and Uniform Difference brands, in particular, specializing in uniform program implementation and management services for healthcare, culinary, and hospitality industries. UA Corporate Solutions offers over 65,000 uniform options to support large-scale uniform programs and has helped national healthcare networks, hospitals, restaurants, hotels, private medical and dental practices, schools, veterinarians, and other service organizations look their professional best for over 30 years. The division is based in Fort Lauderdale, Florida. Learn more by visiting http://www.uacorporate.com or by calling 844.694.8358.