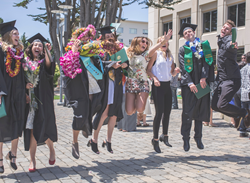 SAN FRANCISCO, CA (PRWEB) December 15, 2016
The University of San Francisco's (USF) newest graduating class includes 414 undergraduates, 392 graduate students, and 33 doctoral candidates who will be honored this Friday, Dec. 16, during commencement ceremonies in St. Ignatius Catholic Church on USF's campus (2130 Fulton Street at Parker Avenue in San Francisco).
Exercises kick off with a Commencement Mass at 10 a.m. on Friday with USF President Paul J. Fitzgerald, S.J. as presider and homilist. Later that day, graduates will receive their diplomas during the following times:
· 12:30 p.m.: College of Arts and Sciences ceremony
· 3:30 p.m.: School of Nursing and Health Professions and School of Education ceremony
· 6:30 p.m.: School of Management ceremony
Here are a few fun facts about these graduates. An international mix, members of this winter's graduating class hail from 28 countries around the globe, including El Salvador, Italy, Saudi Arabia, and Vietnam, and from 32 states around the country. Continuing USF's 161-year commitment to access, 173 of those graduating Friday are first generation college students. Additionally, nursing, finance, management, psychology, and business administration are the top five majors of this USF class.
Graduation speakers for Friday include S. Timothy Kochis, J.D., MBA, founder and CEO of wealth management consulting firm Kochis Global; Margaret W. Baker, Ph.D., dean of USF's School of Nursing and Health Professions; and Leyla Seka, MBA '04, executive vice president at Salesforce.
Kochis, ranked by Barron's magazine as one of the Top 100 independent financial advisors in the nation, will speak to the College of Arts and Sciences graduates. He was former CEO of wealth management firm Aspiriant and was previously head of personal financial planning for Deloitte & Touche. Kochis also serves on the USF Board of Trustees.
Baker will speak at the School of Education and School of Nursing & Health Professions ceremony. Prior to being named dean at USF, Baker was associate dean for academic affairs at the University of Washington in Seattle and a past president of Washington's Council on Nursing Education.
Seka will speak to the School of Management, her alma mater. She heads Salesforce's customer service product, Desk. Before that, she built and grew the Salesforce AppExchange, a business app marketplace.
Media interested in covering any part of Friday's commencement should contact Anne-Marie Devine Tasto, senior director of media relations for USF, at 415.422.2699 or abdevine(at)usfca(dot)edu.
About USF
The University of San Francisco is located in the heart of one of the world's most innovative and diverse cities, and is home to a vibrant academic community of students and faculty who achieve excellence in their fields. Its diverse student body enjoys direct access to faculty, small classes, and outstanding opportunities in the city itself. USF is San Francisco's first university, and its Jesuit Catholic mission helps ignite a student's passion for social justice and a desire to "Change the World from Here." For more information, visit http://www.usfca.edu.
###