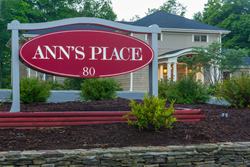 (PRWEB) December 22, 2016
There is something beautiful about a community coming together for the common good. Right here in Bethel, a partnership between Beyond Urgent Care and Rizzuto's Restaurant brought out the best our own community to support a great cause: Ann's Place, a local charity that works to support cancer patients and their loved ones.
The tone for the evening was set by Beyond Urgent Care, who challenged the community of Bethel with a donation matching challenge. The night was also attended by Tracy Brady of Visiting Angels who helped to meet that challenge as well as Mack Media, a premier digital marketing company in the Brookfield area; in a single night of fundraising, over $11,000 was raised by the people of Bethel -- then generously matched with a $10,000 donation from Beyond Urgent Care for a total donation of $21,000 to Ann's Place.
These funds will be used to help finance Ann's Place's free of charge services for cancer patients and their families, including counseling; support groups; and wellness activities like yoga, reiki, tai chi', and more. The services at Ann's Place provide so much more than ease for the physical toll cancer takes on a patient's body; they address every area of concern that weighs on the mind and heart of the patient, from emotional and physical distress, to the financial strain of care, to the tools necessary to live well during and after cancer treatment.
Beyond Urgent Care is an integral pillar of health in Bethel, located in the Stony Hill area. They offer affordable health care by appointment, 7 days a week. Providing health care services by corporate contract, as well as in-house care, such as diagnostic testing, genetics testing, x-rays, and more, Beyond Urgent Care is Bethel's source for fast, friendly health care services.
It's no wonder that with the humbling generosity and community support here in Bethel, Beyond Urgent Care is on its way to expanding to a second location in New Milford to keep sharing the spirit of good health. You can find out more information about the Beyond Urgent Care location in Bethel by calling them at (203) 456-8000 or visiting them online at http://www.beyondurgentcaremed.com.