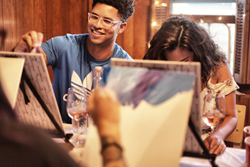 Las Vegas, Nevada (PRWEB) December 19, 2016
"Puff, Pass & Paint", the nation's first cannabis-friendly art class, continues to expand nationally with recreational legalization in California, Nevada, Massachusetts, and Maine. Based in Denver, the smokey art session has also expanded to Portland, Seattle, and Washington DC, with dates available in San Francisco and Las Vegas starting January of 2017. The company will add additional events and locations as legalization allows, with Boston, Portland, ME, San Diego, Los Angeles, and Orange County, CA scheduled for immediate expansion as well.
Puff, Pass & Paint has had great success nationwide, and focuses on creating a welcoming and legal space for cannabis users to consume and create without judgement. Classes are full of laughter, chatting, creative insights, and of course smoking, and while marijuana consumption is encouraged, it certainly is not required. Creator Heidi Keyes says that "cannabis and art are both so therapeutic, and the combination of blending them together in a setting that is welcoming and warm is an amazing thing to witness. With each class I teach, I'm reminded again how much I love what I do, and why." No artistic expertise is needed, and students of all legal ages and skill levels are encouraged to attend. In 2015, Puff, Pass & Paint merged with Denver-based Colorado Cannabis Tours to create CannabisTours.com. CannabisTours.com offers consumption-friendly lodging, marijuana tours, infused cooking classes and dinners, and other cannabis-based events, as well as Puff, Pass & Paint sessions. CannabisTours.com began operations in Denver in 2014, and will begin offering options in Las Vegas, California and other locations in 2017.
Puff, Pass & Paint classes are set to begin in Las Vegas on January 20th and in San Francisco on January 24th, in addition to regular classes in Denver, Portland, and Washington DC. All sessions are expected to sell out quickly. Tickets are $49 per person, and can be purchased at http://www.puffpassandpaint.com, http://www.coloradocannabistours.com, or through the reservations line at 303-420-TOUR.