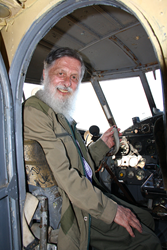 ASAP Tickets 15 year experience of planning simple and complex round-the-world flights was a great advantage
San Francisco, California (PRWEB) December 19, 2016
In November 2016, with assistance from ASAP Tickets, Brother Michael Bartlett set a new Guinness World Record by flying around the world the quickest. He managed to accomplish his journey from Shanghai to Auckland to Buenos Aires to Frankfurt, then to Hong Kong and back to Shanghai, in just fifty-seven hours and seventeen minutes. Michael's multi-city trip broke the circumnavigation of the globe – antipodal (local) record by one hour and twenty-seven minutes. It was Brother Michael's fifteenth trip around world, which brought him his twenty-first world record.
With access to special, discounted multi-city fares and fifteen years of experience of planning simple and complex round-the-world trips, ASAP Tickets was able to successfully assist Brother Michael Bartlett with his record-breaking round-the-world flight.
"When you're searching for a 'circumnavigation of the globe' adventure you need to be in contact with someone who has the resources to enquire and answer all your questions. ASAP Tickets came close to the top when I searched for RTW fares on Google. I liked their website so I chose them and placed an enquiry," said Brother Michael Bartlett before his trip.
The rules of this particular record meant that Brother Michael Bartlett had to cross the equator and land at points that are approximately 108 degrees apart and roughly on the same north–south longitude.
Brother Michael Bartlett set himself a target to get into the Guinness Book of Records in 1983, when David Springbett set the record by flying around the world and across the Atlantic Ocean. So far, Brother Michael has visited 127 countries and been awarded 17 Certificates by Guinness World Records. These were for various round-the-world trips, the most flights in one day and one month, the world's longest airline ticket, and flying around Europe.
About ASAP Tickets
ASAP Tickets is a unique fusion of an airline ticket consolidator (wholesaler) with a travel agency (retailer). The company occupies a leading position in the industry when it comes to discounted airfares and hassle-free bookings. In the company's many years of operation, ASAP Tickets has sold more than half a billion flight tickets. This year, ASAP Tickets extended its borders and opened new branch outside the U.S. – in London, in the United Kingdom.
Visit the ASAP Tickets website at http://www.asaptickets.com for more information about round-the-world and multi-city trips or call +1 844-300-7983 to speak with one of ASAP Tickets travel agents.