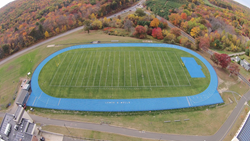 We wanted to build this track to last a lifetime, and post-tension concrete allowed us to do so.
Burlington, Connecticut (PRWEB) December 19, 2016
Earlier this year, the 20-year-old asphalt outdoor track at Lewis S. Mills High School in Burlington, CT was falling into disrepair. Similarly, the football field that the track surrounded was becoming overrun with weeds. That's why the Region 10 School District hired Classic Turf Company, LLC. to replace the aging track and field with an innovative new design.
The team at Classic Turf started by removing the existing grass from the football field, adding new topsoil and re-grading the terrain. Later on, once the renovations were complete, they replaced the grass with fresh sod grown for high-traffic applications.
The bulk of the work went into the new track which was built with post-tension concrete instead of conventional asphalt. This state-of-the-art type of concrete is reinforced with steel cables which are tensioned after the concrete is placed to make it especially durable and resistant to environmental influences that typically cause cracking, heaving, and settling. In recent years, it's become an especially popular system for outdoor tennis and basketball courts. The post-tension concrete running track at Lewis S. Mills is one of the first of its kind successfully installed in the Northeastern United States.
"This project was both challenging and exciting," said Classic Turf Vice President John Eren in a statement. "There are many problems with the quality and longevity of asphalt, so we were looking for other alternatives," he continued. "We build hundreds of tennis courts using post-tension concrete and thought, 'Why can't we use this for running tracks as well?'"
Eren and his team recognized that District 10 would be investing a great deal of money into their new track and field facility, so they wanted to make sure it would stand the test of time.
"We wanted to build this track to last a lifetime, and post-tension concrete allowed us to do so," said Eren. "Constructing athletic running tracks using post-tension concrete should be considered the industry standard."
After installing the post tension concrete base, Classic Turf installed a Classic Elastic Track surface on top of the post-tension slab to make the track impermeable to water and comfortable for runners. After laying fresh sod on the football field, the team put the finishing touches on the new facility with fencing installed around the perimeter of the track.
To learn more about post-tension concrete or any of the other products and services Classic Turf offers, you can contact the company online today.