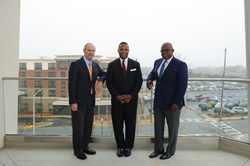 ThePad and other projects like it will "keep airport-generated dollars in the airport-area community."
College Park, GA (PRWEB) December 16, 2016
With more than 100 Atlanta-area business and community leaders looking on, ThePad on Harvard was dedicated on Tuesday, December 13, becoming College Park's first new multifamily community since 1969.
College Park Mayor Jack Longino cited ThePad as the first sign of a new, 21st Century vision for the city and other airport-area communities that will attract a new generation to its historic charms.
"We're going to see the swing of time going up not down in this region, and especially in College Park," Longino said.
Air Realty Managing Partner Rod Mullice, lead developer for ThePad, cited the partnership of College Park city leaders, including the mayor, city council and economic development officials, for bringing this $16 million transit-oriented investment to fruition.
Richard Peiser, the Michael D. Spear Professor of Real Estate Development at Harvard University, addressed the gathering. He praised ThePad's attention to detail and its developers as the visionaries "who should be creating the built environment." Rod Muillice studied real estate at Harvard and was one of Peiser's students there.
Pedro Cherry, chair of the Aerotropolis Atlanta Alliance, said ThePad is "an early win for the Aerotropolis Alliance" in its efforts to make the communities around Hartsfield Jackson International Airport "the premiere area for economic development in Metro Atlanta."
Michael Smith, Deputy General Manager for Hartsfield Jackson International Airport, cited the tenacity and persistence of the developers in creating ThePad's vision and making it happen. He said ThePad and other projects like it will "keep airport-generated dollars in the airport-area community."
ThePad on Harvard, now leasing, offers 109 units of studio, one-bedroom and two-bedroom apartments with upscale amenities such as a high-design community room with entertainment facilities, a Sky Lounge with balcony and easy access to the College Park MARTA Station just 400 feet away. Average rent for the units is $1,404, hundreds less per month than similar communities in other parts of Metro Atlanta.
Jerome Russell, President of H.J. Russell & Company, a partner in ThePad, said the teamwork of the project partners and the strong relationship ThePad forged with the College Park community in the development process has produced a result that everyone is proud to be part of. Russell said he has had confidence in ThePad from the very beginning.
"I always knew the fundamentals of this project were strong," he said.
For more information, visit http://www.padonharvard.com .