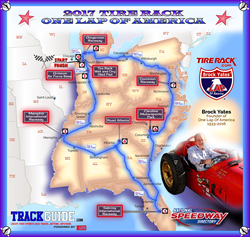 This is the type of route Brock would have loved.
Philadelphia, PA (PRWEB) December 19, 2016
The Tire Rack One Lap of America enters its 34th year with the release of the 2017 route. This years route features long transits, some of the most challenging race courses in the country as well as a variety of racing disciplines. Beginning and ending at the Tire Rack's headquarters in South Bend, Indiana, the event will wind through the Eastern and Midwestern portions of the country, going as far South as Sebring and as far West as Memphis.
The full schedule is as follows:
May 5: Registration/Tech/Drivers Meeting at Waterford Estates Lodge
May 6: Tire Rack Wet Skid Pad at the Tire Rack Headquarters/Autocross at Grissom Air Force Base
May 7: Road Course Time Trial and Bracket Drag at Memphis Motorsports Park
May 8: Road Course Time Trial at Road Atlanta Grand Prix Course
May 9: Road Course Time Trial at Sebring International Raceway
May 10: Road Course Time Trial at Carolina Motorsports Park National Standard Track
May 11: Road Course Time Trial and Oval at Dominion Raceway
May 12: Road Course Time Trial at Gingerman Raceway
May 13: Dry Skid Pad Competition/Skidpad Smoke-out at Tire Rack Headquarters
This year will be the first year the event will be run without the One Lap's founder, Brock Yates. After battling Alzheimers for a number of years, Brock Yates passed away on October 5, 2016. The event has been and continues and to be organized by his son, Brock Yates Jr. "This is the type of route that Brock would have loved." said Brock Yates Jr. "Participants will get to experience some of the most scenic roads in the country while competing on historic and new tracks. It's the blend of the traditional and the new that Brock was famous for, I think our participants will enjoy that same blend in this route." continued Brock Yates Jr.
"We are going to have quite a few great announcements leading up to the event this year." said Media Director, Solomon Rosenthal. "Our event partners understand the significance of this years event and are really going above and beyond. I think One Lapper's and fans alike will be pleased with our plans for 2017, so stay tuned for future announcements." continued Rosenthal.
Competitors are now welcome to sign up for the toughest 8 days in motorsports through the official web-site http://www.OneLapofAmerica.com as well as review the rules for the competition. Last year saw first timers Robert Thorne and Amanda Hahn take the overall win in a stock Nissan GTR.