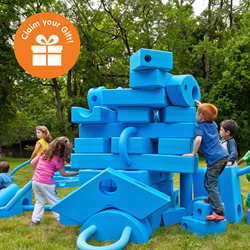 We've met this year's goal but rest assured, we'll work tirelessly again in 2017 to bring play to even more children. In this age of declining play and rising childhood obesity rates, our mission has never been more important.
New York, NY (PRWEB) December 20, 2016
In a victory statement issued today, Imagination Playground, LLC—creators of the breakthrough Big Blue Blocks that encourage child-directed, unstructured free play—announced having achieved their 2016 goal of bringing creative play to 3 million more children. The company thanked the many educators, parents and child care professionals who helped them reach their goal, and credited their Gift of Play program for making an Imagination Playground financially accessible to schools and family centers.
Expressing his deep gratitude, Imagination Playground President and CEO Dave Krishock said, "Teachers, parents, and friends, thank you for sharing our belief in the importance of creative free play … so much that all our dreams came true in 2016. Three million more children are now playing, and that wouldn't have been possible without your partnership. Now, thankfully, we all get to watch these kids blossom."
Imagination Playground's annual mission is motivated by numerous studies showing that free play is essential for healthy child development. Block play, in particular, is linked to improved performance in math test scores, language development, pre-literacy preparation, problem solving, and social skills.
Research also shows that in most cases, the absence of play programs is not due to lack of awareness or desire on the part of educators and parents, but rather is a problem of inadequate funding. To address this need, Imagination Playground tailored a program to provide schools and family centers with financial help. In 2016, this program—Gift of Play—played an important role in Imagination Playground's mission achievement by helping bring Big Blue Blocks to 662 schools, in addition to numerous play centers, museums, libraries, parks, and summer camps.
Based on requests from schools and family centers asking for extra time to participate, Imagination Playground will continue to offer Gift of Play through early January. The Gift offer currently translates to 20% off Imagination Playground Blue Blocks of any size, and is open to any organization serving children that requests help.
In closing, Mr. Krishock reiterated the company's commitment to creative play, saying, "We've met this year's goal but rest assured, we'll work tirelessly again in 2017 to bring play to even more children. In this age of declining play and rising childhood obesity rates, our mission has never been more important."
Schools and family centers interested in learning more about Imagination Playground and Gift of Play are encouraged to call 1-678-604-7466, email ContactUs(at)ImaginationPlayground(dot)org or visit http://www.imaginationplayground.com/promotions/gift-of-play.html
About Imagination Playground, LLC
Imagination Playground is a breakthrough play space concept developed to encourage child-directed, creative free play. The kind of play that experts say is critical to children's intellectual, social, physical and emotional development. Created by architect and designer David Rockwell and the Rockwell Group, Imagination Playground enables children to play, dream, build and explore endless possibilities. Imagination Playground finds its home in daycare centers, kindergartens, elementary schools, children's museums—and science, nature, discovery centers, camps, community centers, children's hospitals, hotels, public parks and more—in North America and over 60 countries overseas. For more information, visit http://www.imaginationplayground.com